POWERED BY:
03: 26 Monday
March 14, 2022 INSIDER • GOAL • IN-CYPRUS • PROPERTY • CYPRUS-IS • CAREER LIKE • GOING OUT • XRYSES SYNTAGES • ACTIVE • PHILGROUP NEWS & nbsp; SOCIETY & nbsp; INSIDER & nbsp; OPINIONS & nbsp; GOING OUT & nbsp; CULTURE & nbsp; SPORTS & nbsp; AUTO & nbsp; GOOD LIFE & nbsp; USEFUL & nbsp; PRINTED EDITION & nbsp;
ARCHIKIEIDISEISPOLITIKITOPIKAPARASKINIOMEDIAELLADAKOSMOSEPISTIMIPERIVALLONTECHNOLOGIASYNENTEFXEISCHRYSES ETAIREIESKOINONIAEIDISEISKYPROS OF CHTHESANAGNOSTI HAVE LOGOEPISTOLESSYNENTEFXEISDIMOFILI IN INTERNETVIDEOSAFIEROMATAADVERTORIALINSIDEREPICHEIRISEISKYPROSBRAND VOICECAPITALFORBESBLOOMBERG OPINIONPROTAGONISTESKAFTI GRAMMICHRYSES ETAIREIESKARIERAAPOPSEISARTHRA IN "F" INTERVENTION IN "F" MESSAGE YOUR SKITSAO WORLD TWITTERGOING OUTTHINGS TO DOCINEMAMOUSIKIESTIATORIABAR/CAFETV ODIGOSTILEORASIPOLITISMOSKYPROSKOSMOSKRITIKESEKDILOSEISPROSOPAATHLITIKAPODOSFAIROMPASKETPARASKINIAELLADADIETHNIALLA SPORAPOPSEISSKITSOVIDEOSAUTONEAPAROUSIASIAPOSTOLESAGONESKALI ZOIFGEIADIATROFIEF ZINASTRACHRYSES SYNTAGESSYNTAGES SEFVIMA VIMACHRISIMAFARMAKEIAGIATROIAERODROMIALIMANIATILEFONAOPAPKAIROSSYNALLAGMALACHEIAAPPSPROSFORESENTYPI EDITION POLITIKITOPIKAPARASKINIOMEDIAELLADAKOSMOSEPISTIMIPERIVALLONTECHNOLOGIASYNENTEFXEISCHRYSES COMPANIES EIDISEISKYPROS OF CHTHESANAGNOSTI HAVE LOGOEPISTOLESSYNENTEFXEISDIMOFILI THE INTERN ETVIDEOSAFIEROMATAADVERTORIAL EPICHEIRISEISKYPROSBRAND VOICECAPITALFORBESBLOOMBERG OPINIONPROTAGONISTESKAFTI GRAMMICHRYSES ETAIREIESKARIERA ARTICLES IN "F" INTERVENTION IN "F" MESSAGE YOUR SKITSAO WORLD OF TWITTER THINGS TO DOCINEMAMOUSIKIESTIATORIABAR/CAFETV ODIGOSTILEORASI KYPROSKOSMOSKRITIKESEKDILOSEISPROSOPA PODOSFAIROMPASKETPARASKINIAELLADADIETHNIALLA SPORAPOPSEISSKITSOVIDEOS NEAPAROUSIASIAPOSTOLESAGONES YGEIADIATROFIEF ZINASTRACHRYSES SYNTAGESSYNTAGES SEFVIMA STEP FARMAKEIAGIATROIAERODROMIALIMANIATILEFONAOPAPKAIROSSYNALLAGMALACHEIAAPPSPROSFORES ENTERPRISES LTD BRAND VOICE CAPITAL FORBES BLOOMBERG OPINION PROTAGONISTS HOT LINE GOLDEN CAREER COMPANIES
ΑΠΟΚΛΕΙΣΤΙΚΙΑ ΣΥΝ
TOGETHER
Next Previous 16th Energy Saving Exhibition "SAVENERGY 2022" and 13th Exhibition of Water and Environmental Technologies "ENVIROTEC 2022" HOME • INSIDER • BRAND VOICE • 16th Energy Saving Exhibition "SAVENERGY 2022" <13>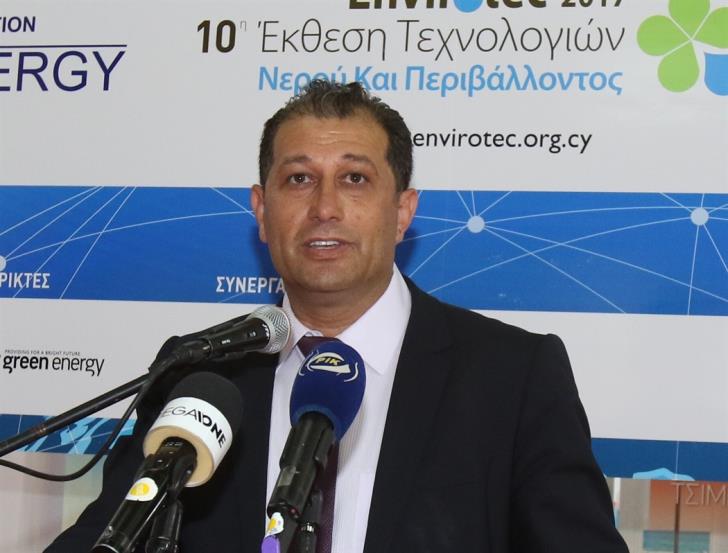 The Federation of Employers and Industrialists (OEB) is very pleased to announce after two years of abstention, due to the coronavirus pandemic, the organization of the 16th Energy Saving Exhibition "SAVENERGY 2022" & nbsp; and the 13th Exhibition of Water and Environmental Technologies "ENVIROTEC 2022" which will be held on the three days 18 – 20 March 2022 at the premises of the Cyprus International Exhibition.
The Exhibitions are organized as every year in collaboration with the Ministry of Energy, Trade and Industry, the Ministry of Agriculture, Rural Development and Environment and the Cyprus Electricity Authority. Major sponsor of OEB initiative is Bank of Cyprus and sponsor Hellenic Petroleum.
The sharp rise in energy costs and generous government sponsorship plans & nbsp; for investments in RES and FDI increase the importance and interest for "SAVENERGY 2022", the impact of which in its fifteen years of operation exceeded all expectations. It was established as the most important commercial event in Cyprus that deals with the promotion and promotion of products and services that produce and/or save energy. The Report helped thousands of households and businesses to utilize the technologies of Renewable Energy Sources (RES) and Energy Saving (EXE), to significantly reduce their energy costs and at the same time to support companies in the field of RES and EXE.
Significant developments at global level and especially in the European Union on environmental issues which are expected to lead to an increase in environmental costs & nbsp; at national, business as well as home level oblige everyone to look for optimal solutions.
OEB's initiative in 2008 to establish the institution of the Exhibition of Water and Environmental Technologies "ENVIROTEC" proves to be very useful for the Cypriot economy and society. & Nbsp; "ENVIROTEC" in the twelve years of operation is considered as the most important initiative in Cyprus, which aims to promote and promote products and services that save/improve water quality, protect the environment or contribute to reducing the environmental burden.
It is also reminded that, in the context of the upgrade of its exhibitions, OEB undertook from 2019 the parallel organization of the Exhibition "CONSTRUCTIONS" thus giving a more complete picture to visitors in addition to energy upgrades and construction and renovation technologies.
In parallel with the organization of the exhibitions, OEB and the Top Kinisis Conference and Events in collaboration with the Cyprus Energy Office are organizing a Conference on "Energy Transition – Are We Ready to Meet the Challenges?". The conference will take place on Friday, March 18 from 10:00 a.m. until 2:00 p.m. and there will be presentations by the Ministers of Energy, Trade and Industry, Agriculture, Rural Development and Environment, the President of CERA, the General Director of the General Directorate of Development, the President of ETEK and other distinguished scientists.
The opening hours of the exhibitions are:
Friday 18 March 2:00 p.m. – 9:00 pm
Saturday 19 March 12:00 pm – 22:00 pm
< Sunday> March 20 11:00 a.m. – 21:00 pm
Admission is free.