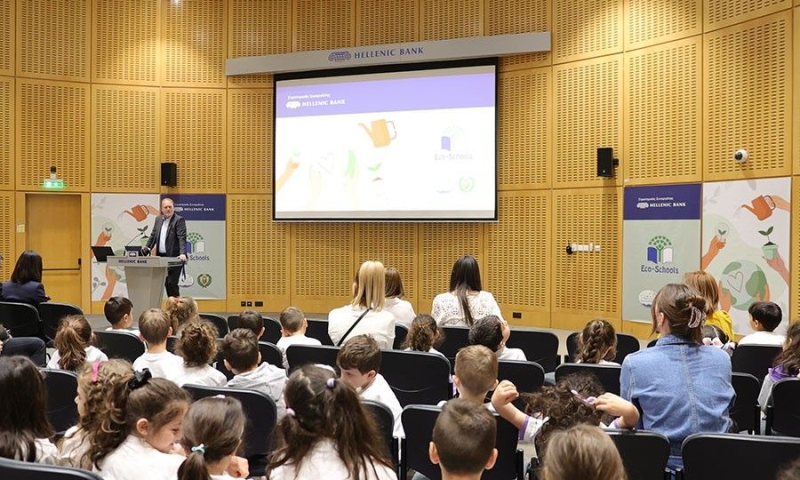 Presentation of the new Net Zero for Youth pilot program
The completion of 25 years of cooperation with the institution of "Ecological Schools" was celebrated by Hellenic Bank, making ecological awareness part of our education, while at the same time the new program Net Zero for Youth (NZ4Y) was presented. The International Program "Ecological Schools" operates in Cyprus with the national operator CYMEPA, with the support and cooperation of the Ministry of Education, Sports and Youth and with the strategic sponsor Hellenic Bank.
As the CEO of Hellenic Bank, Mr. Oliver Gatzke, pointed out, since 1998 the Bank has been proudly and practically supporting "Ecological Schools", seeking to maximize students' awareness of environmental issues. The important thing, he said, is that the program is not limited to education, but takes real action for a better future. "For us at Hellenic Bank, the future is green. We aspire to lead the transition to the Green Economy and believe that a green investment is a real investment. We stand with society with a comprehensive ESG program, focused on strengthening our environmental culture and reducing our environmental impact. Our priority is investing in sustainable practices and supporting initiatives and businesses that reduce the environmental footprint", he emphasized.
The aim of the NZ4Y pilot program is for young people to acquire the necessary knowledge so that with measurable data they can perceive the effect that each of our actions has on the environment, specifically, in terms of energy consumption, the use of water and other natural resources, as well as waste management. "By acquiring this knowledge, our young people will be able to judge accordingly if they want to diversify their actions or compensate them with other positive actions towards the environment", explained Andreas Papadopoulos, Head of the Small and Medium Enterprises Unit of Hellenic Bank. "At Hellenic Bank we believe that our young people are the mirror of the society of our future and whatever we invest in them today will reward us many times over in the future. Especially, when this investment is also related to the protection of the environment, we want to be pioneers and contribute in the best possible way in this direction", emphasized Mr. Papadopoulos.
So much for Dr. Panagiota Mylonas , Inspector of Secondary Education on behalf of the Ministry of Education, Sports and Youth, as well as Dr. Michalis Iereidis on behalf of CYMEPA, thanked the Hellenic Bank, the Environment Commissioner and all the agencies involved for the practical support and strengthening of the institution of Ecological Schools, changing the our environmental culture.
The event ended on a pleasant note from the children of the Felicita ecological kindergarten, who filled the room with feelings of hope with their songs and enthusiasm.
< iframe width='300px' height='500px' src='https://www.adstorebluebird.cy/api/banner/ServeBanner?zoneId=2734' frameborder='0' scrolling='no'>