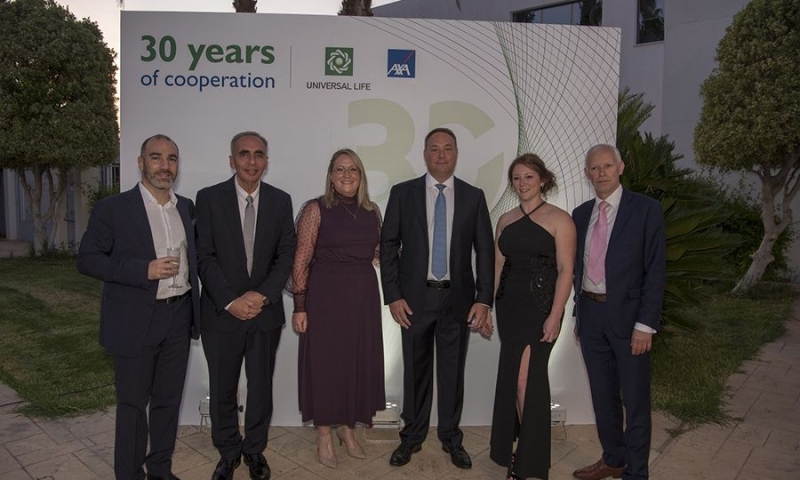 The leading Company in the Private Health Insurance Sector in Cyprus, Universal Life, and the Global insurance giant, AXA, celebrated their 30 years of successful cooperation in a festive anniversary event held in Nicosia on June 7.
The event was honored with their presence by the Chairman of the Board of Directors of AXA Life & Health Reinsurance Solutions Mr. Xavier Lestrade as the First Executive Director of the company Mr. Laurent Pochat-Cottilloux. Also present were the Chairman and members of the Board of Directors of Universal Life, the First Executive Director of the Company, Mr. Evan Gavas, members of the executive management and human resources of Universal Life as well as the Insurance Network. The president of the Pancypriot Medical Association, Mr. Petros Agathangelou, was also present at the event.
The First Executive Director of Universal Life, welcoming the distinguished guests, referred to the important achievements of the cooperation of the two companies and how it contributed to the development of private health insurance in Cyprus and to the upgrading of the quality of health services in the country. Mr. Gavas confirmed, among other things, Universal Life's commitment to remain a pioneer in private health insurance but also committed to providing immediate access to the best medical care services, both in Cyprus and abroad. In his own dissent, the Chairman of the Board of Directors of AXA Life & Health Reinsurance Solutions, expressed his undivided joy and pride for the successful partnership between Universal Life and AXA which has been a period of continuous development and innovation offering pioneering solutions in the private health insurance industry for Cypriot clients.
In his greeting, the president of the Pancypriot Medical Association, Mr. Agathangelos, after congratulating Universal Life and AXA on the important anniversary, expressed the PIS's appreciation for Universal Life's contribution to the institution of private health insurance over the past three decades. Emphasizing the need for the coexistence of the General Health System and private medicine, he pointed out that in all advanced countries, national health systems and private medicine not only coexist but also support each other. At the same time, he mentioned that this coexistence strengthens the level and quality of medicine and at the same time ensures the continuous improvement of the provided health services for the benefit of patients.
The entertainment part of the event included a musical program by the Trio Jazz Band, which performed classic and modern pieces creating a beautiful festive atmosphere.
< iframe width='300px' height='500px' src='https://www.adstorebluebird.cy/api/banner/ServeBanner?zoneId=2734' frameborder='0' scrolling='no'>