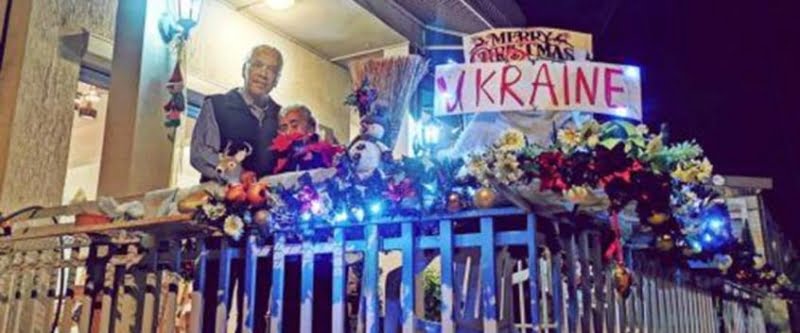 An 82-year-old woman in Limassol sends messages of charity and love to fellow human beings, for whom the Christmas holidays are more than colorful lanterns and fancy shop windows.
This Christmas, Elli After all, she decided to donate as many gifts as she can to the children of families from Ukraine, who have found refuge in our country, while at the same time she dedicates the colorful Christmas decorations on the porch of her house to the struggling Ukrainian people.
"I connected the pain of Cyprus with what I heard and saw on TV about the war in Ukraine" said to KYPE Mrs. Parashou, who last Saturday welcomed the children of two families from Kyiv and Odessa to her home, &nbsp to receive the first gifts, as other children will follow in the following days, while bags of gifts will be transported to other cities as well.
It is not the first time that Elli Paraschou quietly and subtly offers help to her fellow human beings, especially to small children, during the festive season of Christmas, since as she says, Christmas is a special time for her, "the time when I was adopted my parents and which I have held in my heart since then as something sacred".
In the attempt for a photo, being a person who does not like publicity, he hides in the arms of the children, while finally accepting to be photographed, even if half-hidden behind an Alexandrino – the Christmas flower – together with the scientific director of the Pattiche Municipal Museum – Historical Archive and Study Center of Limassol, Mimi Sofokleous.
It is not by chance that Mimis Sophocleous chose to write about the case of Elli Paraschos, who, although she does not identify herself as an artist, creates unique works with paint and laminated sheets, most of which she has given away or sold for charity.
"This philanthropic attitude of hers, along with her of her, it is an important combination, because with the artistic she helps the charitable and with the charitable she helps herself to improve her feelings, her art and above all the things she makes, because she loves nature, the light, the sea and above all laughter of people," said Mr. Sophokleous.
He also noted that photographs of her works, the technique she applies and which she wants to pass on to others, are described in the under-written book "The girl playing with light in Monet's garden", the net proceeds of which will be used for charitable purposes.