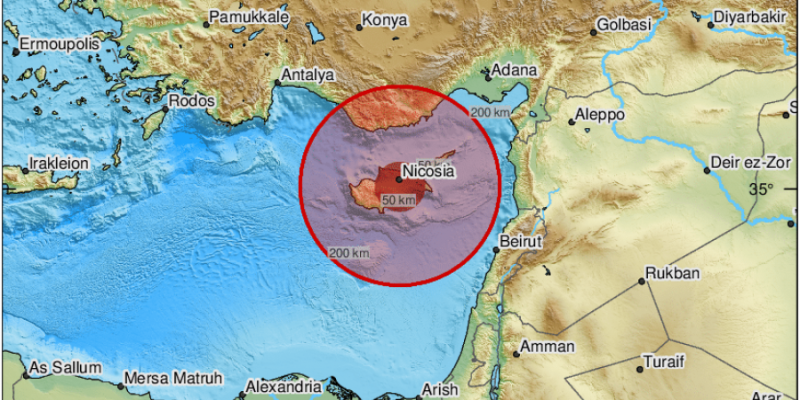 According to the Euro-Mediterranean Institute, an earthquake of magnitude 6.3 occurred on Monday at 19.04, which was also felt in many areas in Cyprus.
Its epicenter was located in distance 9 km southeast of Antakya in Turkey and 75 km of Latakia in Syria.
The focal depth of the earthquake is 2 km. The Agence France-Presse reports that the earthquake is 6.4 on the Richter scale, while, according to the Reuters agency, it was felt in Syria, Egypt, Lebanon.
Turkish networks are talking about a cloud of dust in districts of Antioch while the Kandilli Observatory in Turkey reports aftershocks continuing.
⚠Preliminary info: #earthquake (#deprem) about 20 km W of #Antioch (#Turkey) 4 min ago (local time 20:04:28)❗MAGNITUDE NOT AVAILABLE YET❗Updates at:
📱https://t.co/LBaVNedgF9
🌐https ://t.co/AXvOM7I4Th
🖥https://t.co/wPtMW5ND1t pic.twitter.com/AYezy25hm1

— EMSC (@LastQuake) February 20, 2023
#Earthquake (#earthquake ) possibly felt 34 sec ago in #Cyprus. Felt it? Tell us via:
📱https://t.co/LBaVNedgF9
🌐https://t.co/AXvOM7I4Th
🖥https://t.co/wPtMW5ND1t
⚠ Automatic crowdsourced detection, not seismically verified yet. More information soon! pic.twitter.com/sxKL79Or7q

— EMSC (@LastQuake) February 20, 2023