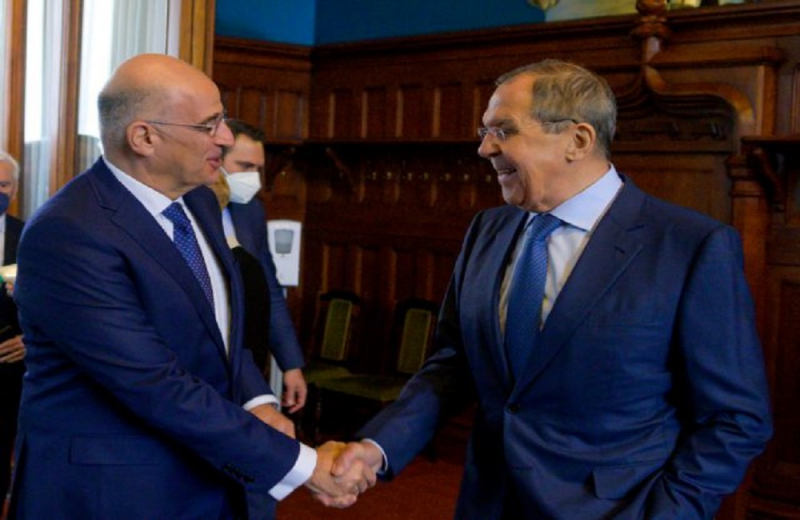 At the heart of the Lavrov debate & # 8211; Dendia, during the visit of the Greek Foreign Minister to Moscow, at the invitation of the Russian counterpart, was the Ukrainian issue, however, an extensive review of international developments in the Eastern Mediterranean was made with Nikos Dendias setting the latest offensive actions of Turkey against Greek sovereignty Aegean islands.
Sergei Lavrov called on the Kiev regime to implement the Minsk agreements, while Nikos Dendias, after emphasizing the historical ties between Greece and Russia, noted that Greek foreign policy is based on the fundamental principles of the UN and at the same time Greece as a member of NATO and the EU respects its commitments.
"It is known to which alliance Greece has belonged for 70 years. This does not prevent us from developing our relations with Russia. Greece is in favor of dialogue with Russia. […] We listen carefully to Russia's views on its security. "We also take into account the concerns of other European states," Dendias said, raising three issues for Ukraine. protection of the Greek community in Ukraine and especially in Mariupol. "A conflict in Ukraine will not have a winner," Dendias stressed.
Regarding the Aegean and the Eastern Mediterranean, Nikos Dendias informed about the continuing destabilizing behavior and aggression of Ankara, noting that "Turkey has non-existent and illegal claims" and reiterated that Greece's consistent policy is in its positive favor. only under the terms of international law and the law of the sea, while clarifying at the same time Mr. Dendias that Greece declares that it will defend its integrity, national dignity and sovereignty against any threat.
In addition, Nikos Dendias, in the aftermath of the latest statements of Mevlüt Tsavousoglou who questions the sovereignty of the Greek islands in the name of his demilitarization, stressed that Turkey maintains a full army and the largest landing fleet against the Greek islands. He has issued a threat of war if Greece exercises the rights provided by the law of the Sea and characterized as ostensible objections of Turkey
He wants to take advantage of the fact that everyone's attention is focused elsewhere, pointing to Ukraine.
Western allies who are stirring up fuss (s.s. in Ukraine) for their own interests and stated that Russia is ready to help settle the dispute between Greece and Turkey on the basis of international law.