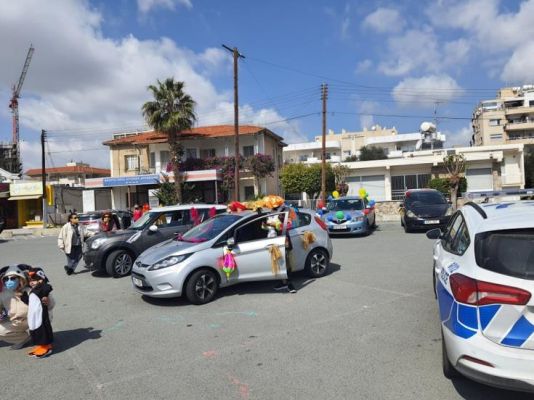 A different carnival parade took place at noon in the streets of Limassol.
Representing the children's carnival parade, Limassol carnivalgoers spread fun and carnival mood in their cars. More than 70 vehicles took part in the convoy, observing the protection measures.
The idea for this event came from the former queen of the carnival 2019 Monica Pieridou, who, from her personal Facebook account, invited people to participate dressed in masks in their vehicles and come to the procession for the carnival parade. According to her statements, the event was organized to entertain people, who are going through difficult times.
"There is melancholy, so that people can have fun, give laughter to the children who were deprived of it, even if they are behind the masks. We will observe the measures, we all wear our masks and we have all sent messages " said Ms. Pieridou.
Many Limassol residents responded to the call and wearing their carnival costumes, with smiles and good mood, took to the streets in their cars. In her statements, the well-known Limassol carnivalist, Ritsa Katsoudi, stated that the carnival is "joy, it is a mood, it is love".
More than 70 cars took part in the march, which circulated on the main roads of Limassol. The carnivalgoers intend to represent the Great Carnival parade and made an appointment for next Sunday, at 2.30 pm.