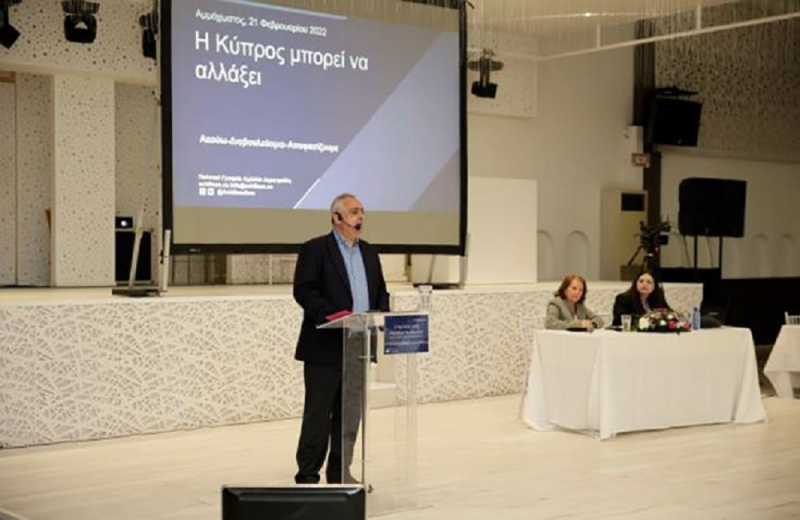 "I want to clean our country from corruption. "I want to give it a perspective with a horizon of 2035. I want to solve the Cyprus problem because the solution is in our interest", said tonight the lawyer Achilleas Dimitriadis who announced his independent candidacy for the 2023 presidential elections.
According to a press release, speaking at a gathering of citizens in Nicosia, Mr. Demitriadis presented his "Outline of Positions" for a progressive government that will, as he said, get Cyprus out of the current deadlocks, corruption, unworthiness and unreliability. "This is not the Cyprus we deserve, nor the one we want for our children," he said, noting also the "collapse of the game with East Med and the danger of losing Varosi and Cyprus falling on the rocks of division." .
Developing his positions on Three Pillars, namely "Honest State", "Cyprus 2035", "The solution is in our interest", Mr. Demitriadis, expressed the belief that "progressive change is in the hand to unite our island, to modernize the state and institutions and to become an open, modern, European state with balanced development for the benefit of many ".
Achilles Demitriadis ended his speech by posing the electoral dilemma for 2023: "The time has come for big decisions: will the wall of division determine our lives? Or will we change things? Against the fear of putting hope. Let's put strength together against the ego ".
The press release states that the announcement of the candidacy of Achilleas Dimitriadis was made after the completion of his consultation with organized groups, personalities, party leaders, experts, trade unions and social organizations , as well as open events in Limassol, Larnaca, Paphos, Free Famagusta, ending tonight in Nicosia.
At the beginning of his speech, Mr. Demitriadis condemned the Russian invasion of Ukraine, emphasizing that these what is happening concerns us all and we must react. " He also announced that in his Politburo, he is receiving humanitarian aid for Ukraine in supplies and clothing.
Source: KYPE