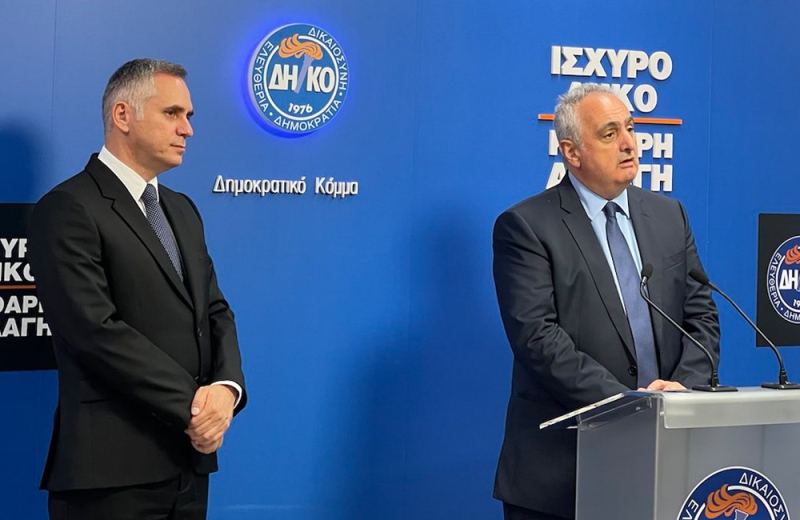 The candidate for President of the Republic Achilleas Dimitriadis met today (Tuesday, 24/5/2022) with the President and the Executive Office of DIKO.
The meeting was productive and provided an opportunity to exchange views on the most important issues concerning the Presidential Elections.
A. Demitriadis presented key points from the Outline of Positions that he published with the announcement of his independent candidacy on February 28, focusing on three pillars: first, the "Honest State" and the fight against corruption, second, the sustainable economy and shift to green growth and thirdly, the Cyprus issue and the prevention of division.
During the meeting, A. Demitriadis noted a convergence of positions with the leadership of DIKO on the need to rid the country of deadlocks brought by 10 years of Anastasiadis rule. A. Demitriadis underlined the responsibility of the outgoing government officials, both in relation to the situation in the Cyprus issue which is on the verge of division, as well as the widespread corruption and the derailment of Cyprus with golden passports.
A. Demitriadis further noted the common anxiety with the leadership of DIKO for the Cyprus issue and submitted his proposal for the utilization of two keys that lead to breaking the impasse: first, the energy and second, the utilization of the Euro-Turkish relationship. He stressed that a necessary condition is the restoration of our credibility and the alignment with European interests. the two states.