The debut of Christos Charalambous on the "blue and yellow" bench is victorious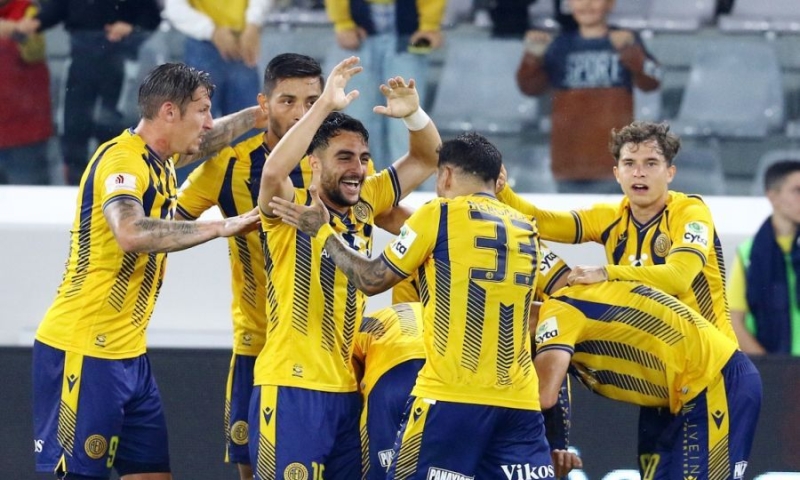 watch video Watch the highlights of the match
Victory in Charalambous' debut for AEL, who beat ENP 1-0 at "Alfamega". Scorer for the "blue and yellow" Frantzis, while the "crimson" experienced a defeat for another game, which "sinks" them further in the standings.
Part A
The game started with both teams trying to impose their tempo. The first phase of the match was for the "crimson" with Meira making the shot in the area but Muriel repelling.
The game was quite average without the special phases. In the 23rd minute, Diavara entered the AEL defense with claims, but Muriel did not collect his shot firmly.
In the second minute of stoppage time in the first half, AEL managed to score their first goal with Franzis making the shot outside the area but the ball going wide.
So the score of the first half was 0-0. .
Part B
The second half started was much better than the first. The players of AEL came in much improved and made it difficult for those of ENP.
However, the first phase of the second half was for the team of Marinos Sacias, with Da Silva from an advantageous position to make the spot but unable to find target.
The home team in the 69th minute managed to open the score of the match after a nice collaboration and Papafotis giving a vertical pass to Franzis with the latter placing correctly and beating Kostic.
ENP after the goal that accepted tried to react and came forward to reach the equalizing goal but in no case was able to.
This was the final score of the match with AEL celebrating a psychological victory while ENP suffered yet another defeat which "sinks" her more.
THE IDENTITY OF THE MATCH
AEL (Charalambous): Becker, Franzis, Teixeira, Casa, Davor, Papafotis, Pantelis, Chernich, Mendoza, Romo, Dewest.
ENP (Marinos Satsias): Kostic, Corsia, Christofi, Da Silva, Rousias, Diavara, Meira, Konnou, Kotsonis, Dreksa, Polykarpou
Scorer: 69′ Frantzis/-
Yellows: Ztravkovski, Milinsteanou, Mendoza/Christofi, Da Silva
Dismissals: -/-
Referee: Panagiotis Hadjigeorgiou
< VAR: Dimitris Solomou