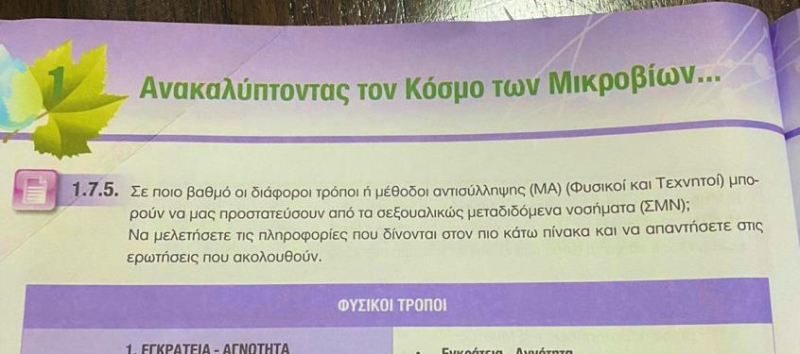 After the uproar that has been caused by a textbook for the third grade biology course, in which it is stated that one way to protect against sexually transmitted diseases is chastity and abstinence from sexual activity before marriage, the Ministry of Education.
As stated in an announcement "about the issue that has arisen and the discussion regarding references that exist in the Biology book of the 3rd High School, the Ministry of Education, Sports and Youth (YPAN ) highlights the following:
The 3rd High School Biology book was published in 2017 (1st edition) and has since been used by the teaching biologists to teach the course.
Based on the instructions of the Ministry of Education, the teachers follow the Proficiency Indicators and Success (DEE), which are listed in the learning contexts (exam material). According to the IEE, teachers are asked to teach children about the various methods of contraception (Natural and Artificial – Mechanical and Chemical). (Related table follows)".
Third High School SCHEDULE 2022-2023

< p>ADEQUACY INDICATORS

SUCCESS INDICATORS

< td rowspan="3" >

21. Students to understand to what extent different contraceptive measures (CO) can protect us from sexually transmitted diseases (STDs).

21a. Physical, mechanical and chemical methods of contraception.

21b. Reliability of methods.

21c. Protection from STDs.
At the same time, the Ministry of Health states that "according to the World Health Organization, abstinence is the most effective way of contraception and protection against sexually transmitted diseases, and for this reason there was a reference in the book. Biology teachers are highly qualified in their science, present up-to-date and documented scientific data and use scientific terminology during teaching, without invoking the ethical dimension that may arise from the specific phraseology of the school textbook".
Concluding, the Ministry of Education notes that "the Biology Inspection is in the process of upgrading the Biology textbooks of all Middle-High School classes, so that any necessary changes can be made".