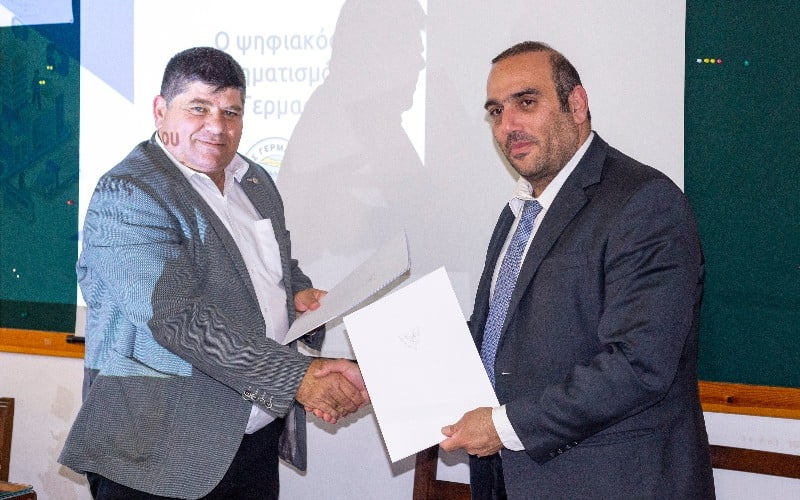 The Minister of Transport and the Mayor of Germasogeia signed a memorandum of understanding for the development of parking management information systems, connected to the bus telematics systems
Agreement between the Ministry of Transport and the Municipality of Germasogeia to promote sustainable urban mobility – The agreement was signed by Yannis Karousos and Kyriakos Xidias
Download the CYPRUS TIMES APP! HERE for Android and HERE for iOS
On Tuesday, a cooperation agreement was signed between the Department of Public Works and the Municipality of Germasogeia,for the development of parking management information systems connected to bus telematics systems, so as to encourage the use of parking spaces by citizens for their private vehicles and their subsequent boarding of buses.
The agreement was signed the Minister of Transport, Yiannis Karousos and the Mayor Kyriakos Xidias, at the Cultural Center of the Municipality of Germasogeia, in the presence of representatives of the Department of Public Works and the municipal authorities.
Specifically, with the signing of the agreement, the Ministry of Transport undertakes to finance, with approximately 30 thousand euros, the interconnection of the Information System for the management of the available parking spaces of the Municipality of Germasogeia (on street and off street parking) and the system of shared bicycles available in the Municipality, with the existing telematics system for Public Transport.
Mr. Karousos said that the implementation of such projects aims to achieve efficiency in transport, with the use of mature technologies, which his Ministry is promoting, while he congratulated the Mayor and the municipal council of Germasogeia for the positive, as he said, attitude towards policies for sustainable urban mobility.