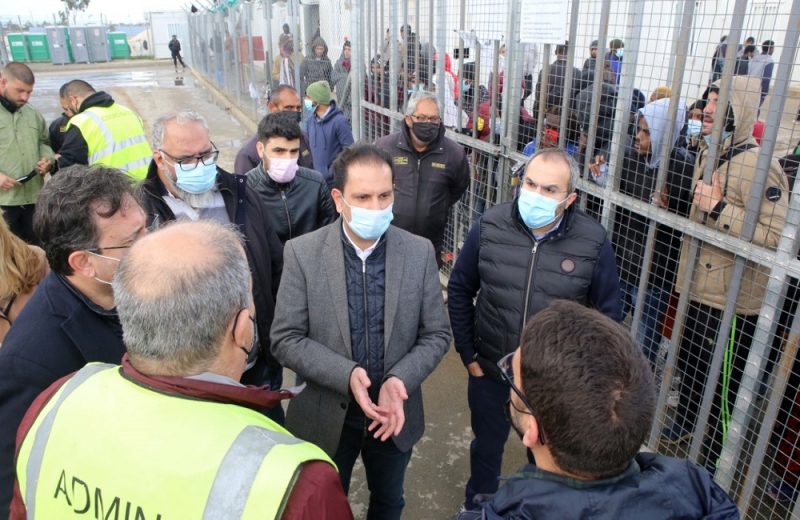 An AKEL delegation was found today at the Pournara Hospitality Center, in order to face the reality there, in the shadow of the complaints of the Commissioner for the Rights of the Child, Despos Michailidou, about the miserable living conditions of minors. In a statement, MP Aristos Damianou states that & # 8220; as Cypriots we are ashamed, as MPs we are doubly ashamed and as people from the Left we express a cry of agony & # 8221 ;, and adds that the conditions in the Hospitality Center & # 8220; concentration of other eras & # 8221 ;.
The statement of Aristos Damianos:
There is a very big humanitarian crisis in progress in Pournara. As Cypriots we are ashamed, as MPs we are ashamed next door and as people from the Left we express a cry of agony.
This is not the first time we have visited Pournara, and it is certainly not the case today that we are dealing with issues related to the humanitarian crisis surrounding immigration and refugees. However, what we have found today is what we have been warning about for many months. In a place, supposedly temporary detention, there are unaccompanied children who are in miserable living conditions for five, six and seven months. For a number of more than 360 unaccompanied children, who should not be here under international conventions, there are two officers, ie one social welfare officer per 180 unaccompanied children.
At the same time, we have seen with our own eyes images reminiscent of the 1974 refugee, 15 minors in plastic cabins with a military blanket, hundreds of people either basically with flip-flops or raccoons, or in clothing that does not meet the basic human need for dignity. Toilets reminiscent of worse than '60s camps. In a word, a great shame for the Republic of Cyprus.
For the umpteenth time, we address the Anastasiadis-Democratic Alarm government and the competent Minister and emphasize the need for the Republic of Cyprus to be directly aligned with international conventions and international law. It is sad that a refugee state, an immigrant state, treats people this way. In a way that daily affects human nature, the dignity and integrity of individuals.
Much has been said in the past about political correctness. We do not expect political responsibility and a show of political correctness. But what we demand is humanity. I wonder if any of us would think to live even 24 hours under these conditions which in some cases do not look like a place of hospitality, despite the great efforts of the staff, but I am very afraid that they look like concentration camps of other times.