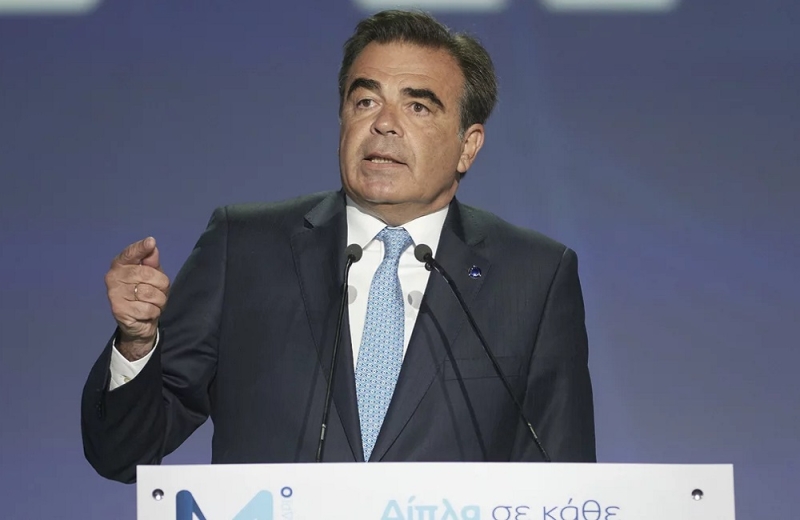 AKEL reacts to the intervention of the Greek Vice President of the Commission, Margaritis Schoinas, for the presidential elections in Cyprus, which, as mentioned in a relevant announcement, raises "institutional and political questions". This report was made by Mr. Schoinas at the 14th Congress of New Democracy, where the president of DISY, Averof Neophytou, was also present.
In his speech before the attendees, the Vice President of European Commission for the Promotion of the European Lifestyle, spoke of "games in Cyprus, in the presidential election", a fact which AKEL interprets, as "an expression of support for Averof Neophytou".
On the issue, as stated in the announcement of the Central Committee of AKEL, the MEP of the party, George Georgiou with a question he has already submitted calls on the European Commission to answer the following:
How the statements are consistent of the Vice-President with Article 9, point 3 (Participation in national political life during his term of office) of the Commission Decision of 31 January 2018 on a code of conduct for the members of the European Commission (2018/C 65/06);
Where does the EU Vice President get the right to intervene inside an EU country of which he is not a national, in favor of a candidate?
Does the Commission know who, according to the Vice President, is "playing games in Cyprus"?
What Margaritis Schoinas said at the Conference
< Referring to Russia, speaking at the New Democracy conference, the Vice President of the Commission stressed that the European family as a whole will face the horrors of war. "Against those who are fleeing civilians, those who are bombing Orthodox churches and monasteries, who are sending fanatical Islamists to uproot our compatriots from Mariupol and the Black Sea, the cradle of modern Hellenism," he said. of DISY, who previously greeted the conference, saying literally: "Dude Averoff, I want you to know that we will not let them play games in Cyprus, in the presidential election of Cyprus. Cyprus will remain European and western and you will be the carrier of this great effort and we will be by your side ".