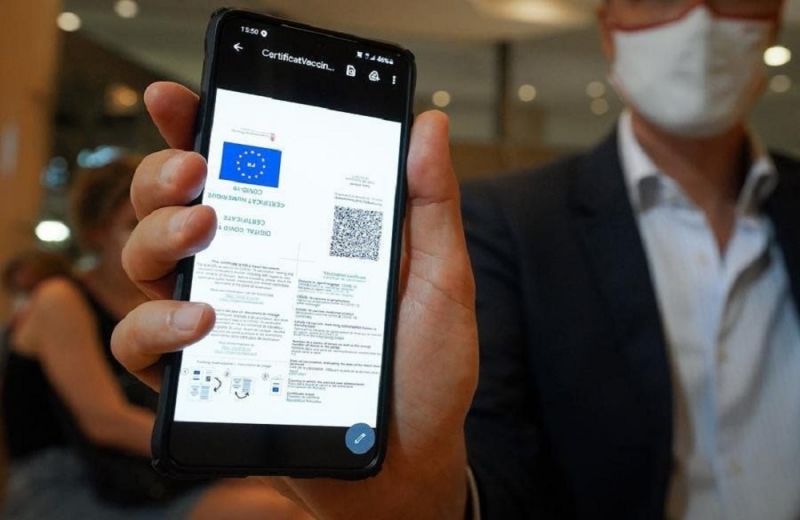 Confusion has prevailed in recent days regarding the duration of the safepass provided by the citizens of the Republic of Cyprus, after falling ill and recovering from Covid19. The confusion is created due to the fact that the European Sickness Certificate issued by the citizens through eudcc.gov.cy says something else and the release message they receive on their mobile phone from the state.
As can be seen in the photos below, a person who was diagnosed with coronavirus on January 2 and was released on January 12, writes that his European Certificate of Disease will be valid for 6 months, while the message he received from the Republic of Cyprus states that the certificate will be valid for three months.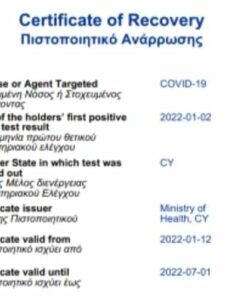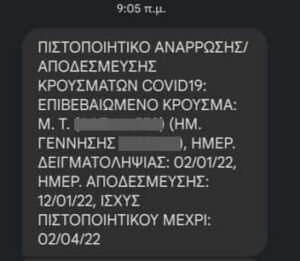 The politis. com. cy contacted the Advisor to the Minister of Health, Konstantinos Athanassiou , who provided answers and clarified the situation. According to Mr. Athanassiou, what should be considered correct is the message that citizens receive on their mobile phones from the state. He also claimed that the reason the message is written for three months, is because according to a measure taken by the Ministry on December 22, from January 31, the time period of safepass after illness will be automatically reduced for everyone to three months. That is, if someone completes the three months from their diagnosis of coronavirus on February 1, from that day they will not be a safe passer, regardless of whether the message received from the state in November that was released says that their certificate will be valid for six months. That's why the state has started sending out now that the safepass for people recovering from the virus will be valid for one quarter from the date of diagnosis with Covid19.
As mentioned in the relevant point of the announcement of the Ministry of Health on December 22, Mr. Athanassiou said that a new clarifying announcement is expected on this issue. At the same time, he noted that a process is underway which will correct the date on the European Certificate and will solve the confusion. However, in this issue it seems that there are other "obstacles" since the certificate is European, since at the same time that in Cyprus the safepass for free movement after recovery will be valid for 3 months, abroad something can be applied different. There are various such obstacles which, according to Mr. Athanassiou, will be overcome in the near future.