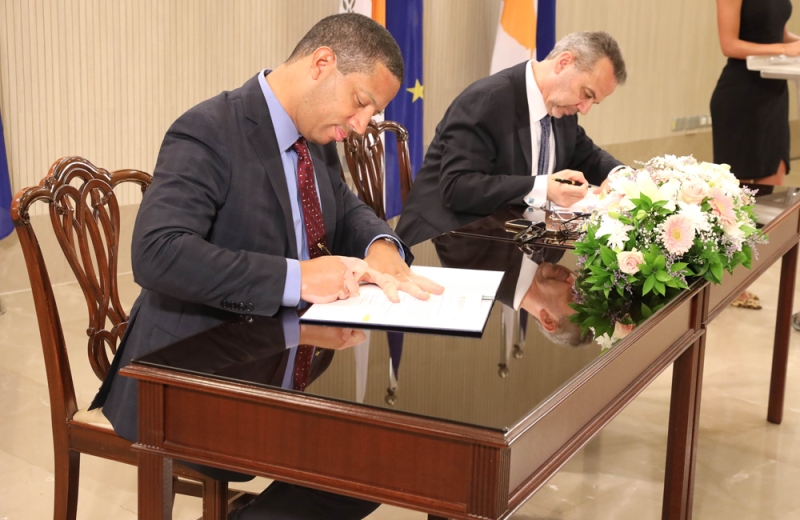 The modernization of the state technological infrastructure and the acceleration of the adoption of cloud services in the public and private sector of Cyprus are the main objectives of the Memorandum of Cooperation signed on Tuesday at the Presidential Office between the Ministry of Research, Innovation and Digital Policy of Cyprus and Amazon Web Services. (AWS).
Undersecretary Kyriakos Kokkinos said after the signing ceremony that the cooperation with Amazon Web Services opens a new era of opportunities for the country, allowing and facilitating the adoption of the cloud in all areas of government and industry.
"Utilizing the experience, best practices and know-how of AWS, Cyprus aspires to modernize its IT infrastructure and policies related to the provision of cloud computing services in areas including security, open data and procurement. , to create a skilled workforce and promote the use of cloud computing technology by businesses ", he added, emphasizing that the goal is to accelerate the holistic digital transformation, a key lever for a diversified, more sustainable development model that can lead to economic development, international competitiveness and social prosperity.
According to the Undersecretary, AWS will work closely with the Undersecretary to provide a wide range of training and skills development activities for the workforce, as well as to develop various government modernization initiatives, starting with pilot applications in areas such as smart services for citizen, big data and artificial intelligence, as well as "smart city" solutions.
"We are laying the foundations for an expanded cooperation with the aim of accelerating the transition to a dynamic digital economy, through the modernization of infrastructure, capacity building, innovation and entrepreneurship", added Mr. Kokkinos, characterizing the Memorandum of Cooperation as "the first step in a long-term, mutually beneficial cooperation, which will contribute catalytically to the establishment of Cyprus as a regional hub of technology and innovation, capable of hosting and meeting the needs of international technology and communications companies ".
On behalf of Amazon Web Services, European Public Sector Director Cameron Brooks stated that AWS is part of the wider digital transformation of Cyprus, as the country launches a new era of innovation, with entrepreneurs, public organizations and companies sharing the vision of a modern
"Through this Memorandum of Understanding, we are committed to supporting this vision by offering initiatives that will promote innovation, help grow local businesses, support the modernization of technology infrastructure and develop digital skills for future generations ", he added.
Mr Brooks also said that a cloud-enabled workforce, equipped with state-of-the-art and digital skills, would be the basis for achieving the goals of digital transformation, adding that "AWS education and training programs are designed for identifying digital retraining opportunities, providing access to hundreds of hours of training and resources, as well as online and live collaboration and networking opportunities. We are pleased to bring these programs to Cyprus and intend to launch the AWS cloud training program very soon. "
He further emphasized AWS 'commitment to sustainability. "Energy consumption and the consequent carbon dioxide emissions are essential issues for us and are important to our customers and other stakeholders, & # 8221; said.
AWS cloud and digital technologies, he added, "contribute to reducing key sector emissions and making them more sustainable."
According to Brooks, independent studies show that European companies can reduce energy consumption by almost 80% when running AWS cloud applications instead of their own data centers.
"We use renewable energy sources and we are well on our way to achieving it by 2025, five years ahead of our original target," the AWS official said. The company also sees this Memorandum Cooperation "as the beginning of a cooperation that will allow the government of Cyprus to realize the goals of its digital transformation". "We look forward to working with both the private and public sector throughout Cyprus, as the country moves towards the formation of a modern, digitally activated society," he said.
Source: KYPE