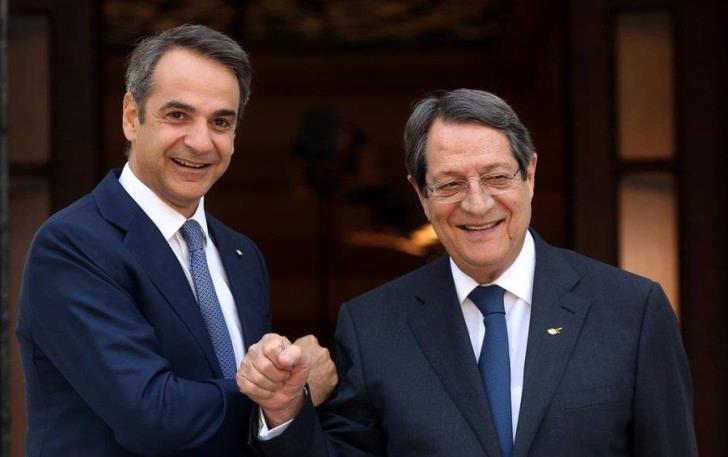 & nbsp & nbspphilenews & nbsp; & nbsp;
Meetings with leaders of two countries will have next week, in Nicosia, the President of the Republic Mr. Nikos Anastasiadis, who will have a busy program which will cover a variety of issues. & nbsp;
According to the Director of the Press Office of the President, Andreas Iosif, the meeting with the Prime Minister of Greece Mr. Kyriakos Mitsotakis stands out in the program of President Anastasiadis, with whom they will discuss the latest developments in the Cyprus issue, Turkish challenges and issues of common interest, such as is Energy and Immigration. & nbsp;
On Tuesday, June 14, the President of the State of Palestine, Mr. Mahmoud Abbas, will pay an official visit to Cyprus. & nbsp;
During the bilateral consultations that President Anastasiadis will have with President Abbas, the President of the Republic will emphasize that Cyprus will remain a strong supporter of the solution of the Palestinian issue, in accordance with the resolutions of the United Nations Security Council. & Nbsp;
President Anastasiadis will emphasize, among other things, that the Republic of Cyprus is ready to work for the further deepening of bilateral relations in areas of common interest. & nbsp;
The Cyprus issue will certainly be on the agenda of the meeting of Presidents Anastasiadis and Abbas. The President of the Republic will brief on the efforts made to end the Turkish occupation, the Turkish challenges in Famagusta and the Exclusive Economic Zone of the Republic of Cyprus, as well as the initiatives undertaken to resume negotiations, with a view to finding a solution. in the Cyprus issue which will comply with international law and the European acquis. In the evening of the same day, President Anastasiadis will host an official dinner in honor of the President of the State of Palestine. & Nbsp;
A meeting of the Council of Ministers will be held on Wednesday, June 15, at 9:15 am. A meeting on the photo-labeling system will follow at 10:30 in the morning. The meeting will be attended by the Ministers of Transport, Justice, the Deputy Minister of Innovation, the Chief of Police, representatives of the Legal Service and officials. At noon of the same day, President Anastasiadis will be the keynote speaker at a dinner hosted by the French Ambassador in Nicosia to the EU Ambassadors. accredited in Cyprus, on the occasion of the imminent completion of the French Presidency of the Council of the EU. At 7pm of the same day, President Anastasiadis will address the inauguration and naming ceremony of the sports center of the AEK Larnaca academy.
On Thursday, June 16, at 9:45 in the morning, President Anastasiadis will chair a meeting with the sheep and goat farmers. The meeting is part of the dialogue announced that the President of the Republic will have with the & nbsp; groups involved in the production of halloumi. At 11:30 in the morning, the President of the Republic will present the Cyprus Export Award 2020. In his speech he is expected to refer to the Government's efforts to create a friendly economic environment which will contribute to Cyprus becoming an international business center and supply center. high level of service. Reference is also expected to be made to the catalytic role of the digital transformation to strengthen the resilience of the economy.
The National Plan "Cyprus – Tomorrow" includes significant reforms and investments related to the digital transformation. Afterwards, President Anastasiadis will host a luncheon for the winners. , Kindergarten Teachers and Special Educators PADED – Vanguard.
On Friday, June 17, at 11:00 in the morning, President Anastasiadis will & nbsp; receive at the Presidential Palace the Prime Minister of Greece Mr. Kyriakos Mitsotakis. & Nbsp;
The Turkish provocation, as it develops, mainly at this time, in the enclosed area of ​​Varosia, but also in general & nbsp; the unacceptable and provocative behavior of Turkey, both towards Cyprus and Greece, as well as the revisionist positions that the Turkey for the solution of the Cyprus problem, will be at the center of the meeting of the President with the Prime Minister.
It is also expected to discuss what is happening in Ukraine and the consequences of the ongoing war.
< The agenda also includes Immigration, energy issues, as well as other issues of common interest that have always guided the common policies pursued by Cyprus and Greece and which have established the two countries as pillars of stability and peace in the region. & nbsp;
At 7pm of the same day, the President of the Republic will attend and speak at the DISY conference. & nbsp;
On Sunday, June 19, at 10:00 am , the President of the Republic will address the event for the 1st trip of the passenger connection Cyprus – Greece in the port of Limassol.
The Government has implemented the commitment for alternative connectivity of Cyprus with mainland Europe, succeeding in restoring 21 years after the Cyprus-Greece ferry connection. & nbsp;