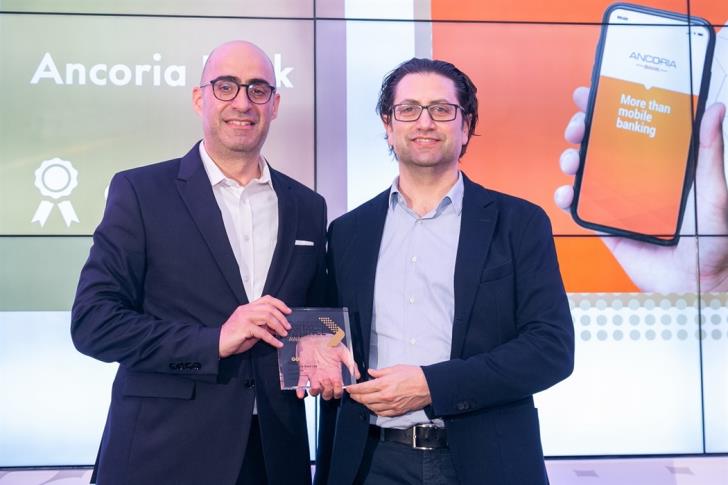 < b> Once again, Ancoria Bank's services and products were honored, this time in Greece, recognizing the bank's emphasis on innovation and modern customer service.
At the Digital Finance Awards 2022, held in Athens, the pioneering projects and innovative initiatives in the digital transformation of the financial sector in Greece and Cyprus were highlighted.
Specifically, myAncoria, Digital Loans and Ancoria Bank Create won the following awards:
myAncoria – web/mobile banking of Ancoria Bank
Gold in the Payment Project category Bronze in the Internet Banking category
Digital Loans
Silver
in the Digital Transformation Initiative
Silver
in the Paperless Digital Initiative (ATM processing, e-signature, digital ID, etc.)
Bronze
Consumer/SME Lending Digital Initiative category
Ancoria Bank Create – for opening an account without physical presence in the bank
Bronze in the category Paperless Digital Initiative (ATM processing, e-signature, digital ID, etc.)
At the award ceremony in Athens, Ancoria Bank was represented by Nikolas Prentzas, Deputy Chief Executive Officer & amp; Chief Executive Officer of Business Operations, and George Paglas, Chief Executive Officer of Banking & amp; Business Development.
These important distinctions are a reward for Ancoria Bank's persistence in the use of modern technologies and in the creation of innovative services and products, always guided by the quality of its customer service. At the same time, the high level of its digital services and products is being proven, as they have been recognized in a larger market such as Greece.
Ancoria Bank remains committed to continuing to redefine banking and offer even more sophisticated services and products, so that its customers can manage their finances safely and easily.