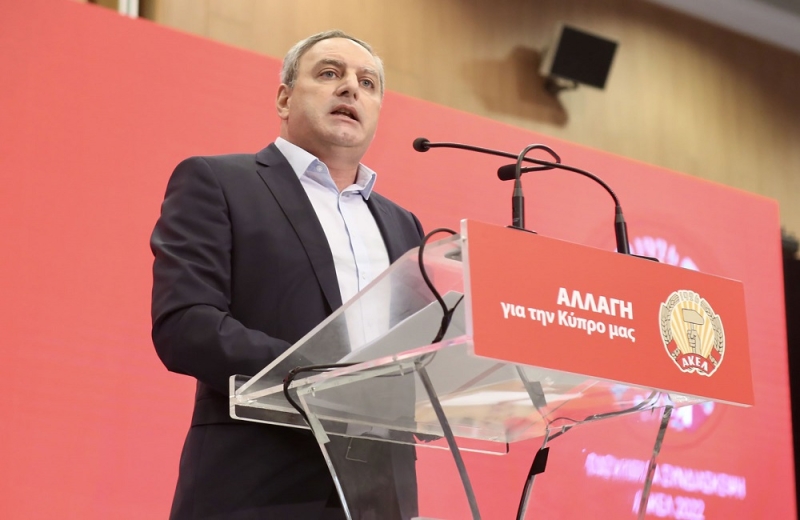 "We are moving mountains. And many times we moved mountains. We roll up our sleeves and move on, supporting the independent candidacy of Andreas Mavrogiannis. For the progressive change, which the place needs so much ". This was the crown of the secretary's concluding speech. of K.E. of AKEL during the solemn closing at yesterday's Cypriot conference of the party. These upheavals, as well as others, of course, were enough to excite and inspire the approximately one thousand delegates in the electoral conference, which with an astonishing 90% supported Mavrogiannis's candidacy in the upcoming presidential elections.
The picture presented by the conference did not differ at all from what the basic party groups showed with the attendance of 33% of the party members. Positions that were strongly supportive of the candidacy proposed by the Central Committee, as well as positions that expressed a different point of view, but in the end agreed with the proposal, and the minorities who voted against. In absolute numbers, 891 delegates voted in favor of Mavrogiannis, against 99 and 9 ballots were blank.
The conference began with the official part and the speech of the secretary general. of AKEL. It was attended, in addition to the elected delegates, by friends of AKEL and executives of the New Forces, who immediately left, to begin the second, closed part and 20 delegates spoke. Ten supporting the party proposal and ten who disagreed: "The place needs change, and AKEL is the driving force to achieve this goal." "Andreas Mavrogiannis can lead the effort, since he has never been involved with any party or political formation."
edition of the newspaper in PDF at the same time as its daily circulation from 05.00 in the morning.