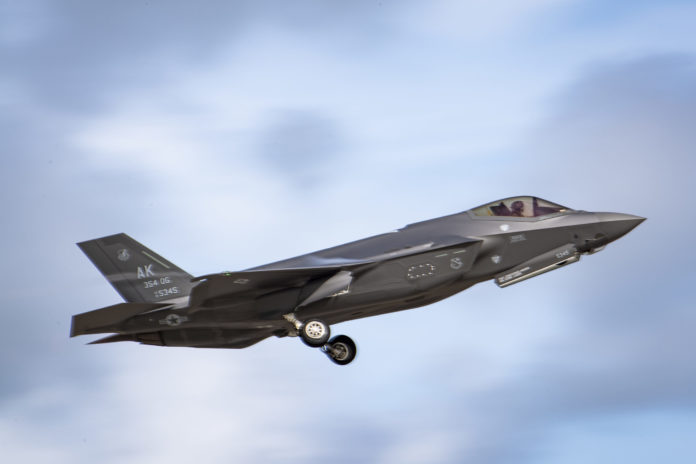 A US Air Force F-35A Lightning II assigned to the 356th Fighter Squadron, Eielson Air Force Base, Alaska, takes off for a training sortie during Exercise Cope North 21 at Andersen Air Force Base, Guam, Feb. 17, 2021. The objective of Cope North 21 is to improve combat readiness, develop integrated humanitarian assistance and disaster relief operations, and increase interoperability of US Forces, Royal Australian Air Force and Japan Air Self-Defense Force, or Koku-Jieitai. (US Air Force photo by Master Sgt. Larry E. Reid Jr.)
Turkey does not necessarily aim to return to the program of the American F-35 fighter, from which it was expelled because it bought Russian missile systems, said today the head of the Turkish defense industry.
He clarified that Turkey's primary goal is to compensate for its losses.
In December, the United States imposed sanctions on Turkey for buying Russian S-400 missile defense systems, targeting its defense industry and top officials in the sector. Ankara has hired US law firm Arnold & Porter to push for Turkey to rejoin the program.
The head of the Turkish Defense Industry Directorate, Ismail Demir, told NTV that there was a "clear loss of rights" and that Ankara's six-month contract with Arnold & Porter was aimed at compensating for the losses.
"What we are saying is not that we must necessarily re-enter the program. "We say there is an injustice and that injustice needs to be rectified," said Demir, one of the targets of US sanctions.
"The goal of all our efforts is not necessarily to return to the program, but rather to be compensated for the injustices and the loss of our rights."
, he added.