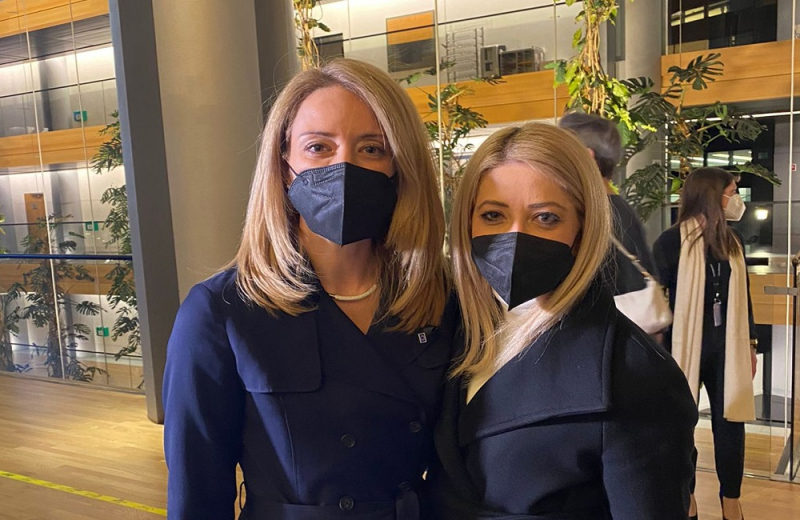 The new President of the European Parliament, Roberta Metsola, was described as a worthy politician and friend of Cyprus by the Speaker of the House of Representatives, Annita Dimitriou, in a series of posts on her official Instagram account and other social media from the institution's headquarters in Strasbourg.
Upon uploading photos in which she congratulates the Maltese politician, who comes from the European People's Party, the political group to which she and DISY belong, Ms. Dimitriou wrote that after her election she is now "a very worthy politician and friend of Cyprus at the helm of Europe ".
"In her speech immediately after her election, she made a very important reference to Cyprus, emphasizing that we will never be whole (in Europe) as long as Cyprus remains divided," Ms. Dimitriou added.
"I wish from the bottom of my heart a good start with the common goal of uniting Europe together!" concluded.
Ms. Dimitriou also attended the memorial service for the late President of the European Parliament, David Sassoli, on Monday, where she signed the book of condolences and met, among others, with Commissioner Stella Kyriakidou and DISY MEP Loukas Fourlas.
In a statement, the Speaker of the House of Representatives said on Monday that it was no coincidence that the entire European leadership was in Strasbourg to honor the memory of Sassoli, "a great European politician who left a great legacy to all of us" who was "Faithful to the rule of law, to democracy, to human rights."
He referred to his attitude towards pandemic management and how they show that the EU institutions must be close to the people to deal with any difficulty.
Regarding Metsola's candidacy, the Speaker of Parliament had said on Monday that the Maltese politician "has a lot to offer and further strengthen the field of equality and equal representation", which needs strengthening at the European Parliament level. and nation states.
ΚΥΠΕ