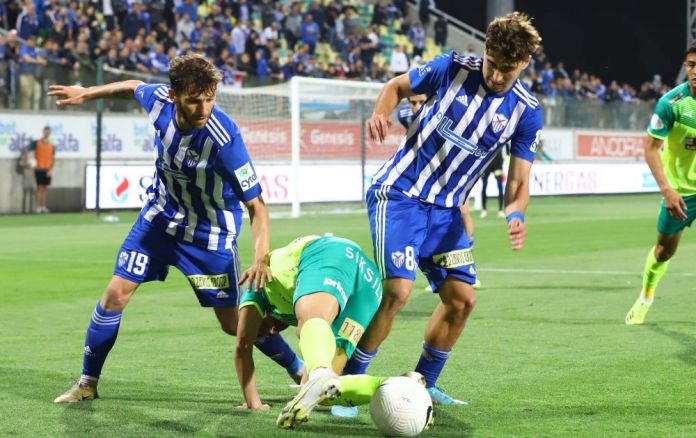 With yesterday (18/4) 1-0 victory over Anorthosis, AEK will end the year undefeated against the team of Famagusta, which he forced in the first & # 8230; 0/4 of the season.
We mention "the first", as it is almost certain that other pairs of large teams will follow in which one will remain undefeated by the other. It is indicative that at the moment in three games, APOEL did not beat Apollon and Anorthosis, Apollon did not beat AEK, Anorthosis did not beat Apollon and respectively, while AEK did not beat APOEL.
It is noteworthy that since the playoffs are held with six (2013/14) and most major teams face each other four times a year for the institution of the championship, the phenomenon of a "big" not winning another in any of them four matches, observed 34 times. And Anorthosis, with this year "0/4" with AEK, reached ten times, climbing to the first place of the list of "victims", having surpassed Omonia which in nine cases did not win a big team (in six it was with APOEL).
In the relevant list follows AEL with five "0/4", Apollon "suffered" four times, while APOEL and AEK had the fewest cases that were left without a victory in four league games with a big team, with three times each./p>
APOEL is also the team that managed most times to remain undefeated in all four games (championship) of a season against a big team, with a total of 12 cases. He is quite far from the second Apollon, who managed it eight times, while AEK with this year's undefeated against Anorthosis reached seven. Omonia succeeded four times, Anorthosis twice and AEL only once.
The times each team did not beat an opponent in four games
ANORTHOSI (10)
3 times with APOEL (2013/14, 2014/15, 2016/17)
3 times with AEK (2015/16, 2016/17, 2021/22 )
2 times with Omonia (2015/16, 2020/21)
2 times with Apollo (2017/18, 2020/21)
OMONIA (9)
6 times with APOEL (2013/14, 2014/15, 2015/16, 2016/17, 2017/18, 2018/19)
2 times with Apollo (2016/17, 2018/19)
1 time with AEL (2013/14)
AEL (5)
2 times with Apollon (2017/18, 2018/19)
2 times with APOEL (2017/18, 2018/19)
1 time with Omonia (2020/21 )
APOLLON (4)
2 times with AEK (2015/16, 2018/19)
1 time with Anorthosis (2016/17)
1 time with APOEL (2018/19)
APOEL (3)
2 times with AEK (2016/17, 2018/19)
1 time with Apollon (2016/17)
AEK (3)
1 time with Anorthosis (2017/18)
1 time with Apollon (2020/21)
1 time with Omonia (2020/21)
The times each team was unbeaten by an opponent in four games
APOEL (12)
6 times with Omonia (2013/14, 2014/15, 2015/16, 2016/17, 2017/18, 2018/19)
3 times with Anorthosis (2013/14, 2014/15, 2016/17)
2 times with AEL (2017/18, 2018/19)
1 time with Apollon (2018/19)
APOLLON (8)
2 times with Anorthosis (2017/18, 2020/21)
2 times with Omonia (2016/17, 2018/19)
2 times with AEL (2017/18, 2018/19)
1 time with APOEL (2016/17)
1 time with AEK (2020/21)
AEK (7)
3 times me Anorthosis (2015/16, 2016/17, 2021/22)
2 times with Apollon (2015/16, 2018/19)
2 times with APOEL (2016/17, 2018/19)
OMONIA (4)
2 times with Anorthosis (2015/16, 2020/21)
1 time with AEL (2020/21)
1 time with AEK (2020/21)
ΑΝΟΡΘΩΣΗ (2)
1 time with Apollon (2016/17)
1 time with AEK (2017/18)
AEL (1) >
1 time with Omonia (20 13/14)