The coaching staff in detail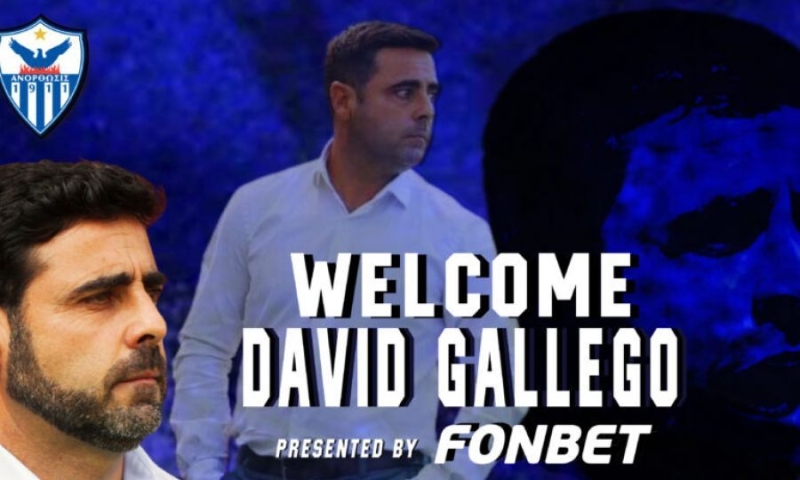 Anorthosis announces the staffing of its coaching staff for the 2023-24 season. David Gallego Rodríguez is the new coach.
The coach of our team will be David Gallego Rodríguez. He is joined by Jose Ramón Rodríguez Sánchez and Yiannis Okkas as assistant coaches. Alejandro Prieto Sánchez will play the role of trainer with Michael Paule-Carres playing the role of rehabilitation trainer. Antonis Georgallidis is the goalkeeper coach, while Stelios Antoniou remains in the role of analyst.
We welcome Mr. Gallego and his staff to the "blue and white" and wish them every success!
Below are the resumes of the staff members.
David Gallego Rodríguez
David Gallego Rodríguez was born on 26/1/1972 in the city of Suria, Catalonia, and as a footballer he had a career from 1987 to 2009 in various teams in Spain. He started his coaching career with his hometown team and in 2013 was hired by Espanyol in the infrastructure departments. He stayed at the "Blanquiasules" of Barcelona until 2019 and was even in the first team, coaching in 13 matches of the first division "Pericos".
Followed by his presence at Sporting Gijon from the Summer of 2020 until February 2022 with presence in 77 matches in the Second Division of Spain. In the season that ended he was on the bench of Ponferandina in the same category.
Yiannis Okkas
He is one of the top footballers who highlighted Cypriot football with a rich career abroad, while he remains the most capped footballer in our representative team. He played in Anorthosis in two seasons, 1997-2000, 2009-14, winning eight titles while he won another seven in Greece with PAOK and Olympiakos Piraeus.
Mr. Okkas started his coaching career from Ermis and followed by a presence in the infrastructure departments of KOP (K17 and K21) while he was also assistant coach of the Men's team. In the 2022-23 season he worked for the B team of Olympiakos Piraeus, which participates in the Superleague B championship.
Jose Ramón Rodríguez Sánchez
He was born on 29/10/1988 and holds a UEFA coaching diploma and a sports science, science and health degree from the University of Valencia. He has worked as a coach at academy level at Valencia and as an assistant coach at Elche, Vallecano, Sporting Gijon, Tenerife, Zaragoza and Watford. For the last two years he has been working in the first division and Espanyol as director de metodologia.
Alejandro Prieto Sánchez
He has been working as a team trainer in Spain since 2012 and Rayo Vallecano from where it started. This was followed by a stint in Tarragona, Ibitha and Córdoba where he worked from November 2020.
Michael Paule-Carres
Born on 26/12/1990 in Barcelona of Spain and has worked in various teams in Spain, most recently Espanyol. He also worked at FC Británico de Madrid, Club Deportivo Coslada and Club Deportivo Cultural.
Antonis Georgallidis
A product of the football academies of Anorthosis, he played in the first team from 1999 to 2006 while he returned in 2019 to close his career. He holds UEFA B and UEFA B GK diplomas and worked in the previous season at ENP.
Stelios Antoniou (Analyst) and Flora Georgalla (Nutritionist) will remain in our team.