Leaves bronze from Hyeres, his fifth medal in the last six games!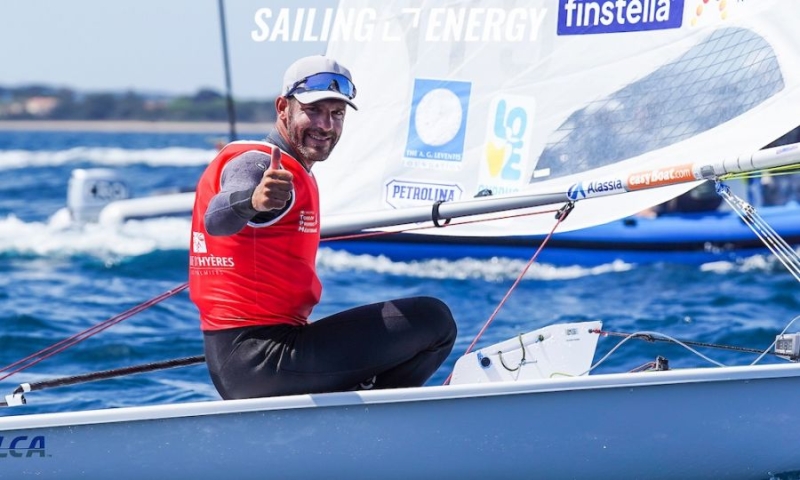 Pavlos Kontidis, No. 1 in the World Ranking, is going through the best season of his career and he confirmed it in the second – and last – this year's World Cup which ended on Saturday (29/4) in Hyeres .
Finishing second in the medal race clinched the bronze medal which is his fifth (!) medal in the last six major races, from April 2022 to the present day – the only time he missed the podium was in Mallorca where he finished fourth by a few thousandths. From the Olympic Games "Tokyo 2020" until today, Kontidis has taken part in ten major competitions, in nine of which he was in the top 10 and in five on the podium!
The 33-year-old sailor, and last year's winner in Hyeres, came from third in the medal race in which he finished second, holding off an attack from Australian gold medalist Wearn, who tried to take the bronze from him. Contidis passed the Englishman Beckett but did not build the required distance to climb a step on the podium. Beckett, winner of this year's first World Cup in Mallorca, dropped to second overall and the win went to compatriot Hanson.
'16th place on the first day cost'
Kontidis made a stunning run of finishes with two firsts and two second places but also a 20th on Friday (28/4) which was written off as his worst of the race. "I'm absolutely delighted with my performance all week, with the medal and with this medal streak that… runs from 2022" declared Pavlos before the award and added: "a bad race in the finals was in the program and it's erased '. What it cost was the 16th place on the first day which with the wind was not allowed. If it wasn't for that position now we would be talking about back2back".
Last year Contidis won in Hyeres, the so-called "Wimbledon of Sailing", as he did in 2017. He may be only 33 years old but this year was his 19th participation in Hyeres!
Next time the program includes rest and return to the sea on May 17th in the Netherlands to prepare for the World Championship in August which is the last and biggest goal this year since he gives qualification for "Paris 2024".
From Hyeres, Kontidis departs for neighboring Monaco where he will attend an event organized in his honor by the Ambassador of Cyprus to the Principality, Sir Stelios Hatziioannou.
< p>Contidis is continuously supported by OPAP Cyprus as a major sponsor, while Finstella is also a major sponsor. It is sponsored by the Deputy Ministry of Tourism, the Leventis Foundation and Petrolina. Sponsors are easyBoat.com, Stelios Philanthropic Foundation, Alassia NewShips Management, Quadcode and VITA Construction.