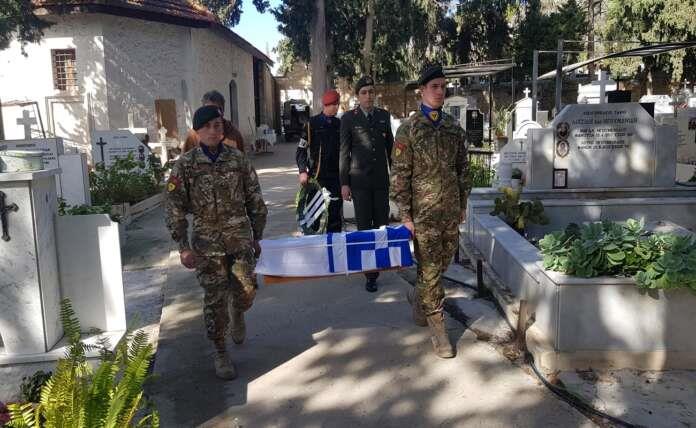 In an atmosphere of emotion and intense emotional charge, the burial of the bones of the volunteer hero Kostakis Pentaliotis, fallen during the battles of Tellyria, took place today Saturday in Paphos, which were identified by the DNA method. A memorial service followed in his memory.
Stathis Ioannidis, son of Kostakis Pentaliotis, said that when his father was killed he was eight years old and his brother six years old. We did not meet him, he continued, nor do we remember many things, however we hear the best about his character, but also how beloved he was in Paphos society.
He added that Kostakis Pentaliotis' father was born in the village of Pentalia in Paphos District in 1927. At a young age he went to Paphos to work for his uncle Efstathios Ioannidis, who had him under his protection. He then met Efimia Kyriakou from Pegeia and they got married in 1956. They had two boys. Then in 1964, with the start of hostilities in Tellyria, he was assigned as a volunteer to the Hospital Unit under the doctor Dimitris Mavogenis. On August 9, the Turks bombed the Nepal Hospital, killing everyone inside.
According to Mr. Ioannidis, his father's funeral took place in August 1964 but he was buried with others. . Later, however, he continued, the cabinet decided to have the bones exhumed by a DNA method to identify the fallen. In his father's grave, as he said, "other fallen people were also found so after the DNA we separated the bones that we buried today". Despite his mother's urgings not to go, his father volunteered at the Hospital Unit. He also added that other cases are pending. Subsequently. Mr. Ioannidis thanked everyone for their presence who honored the memory of his father and expressed his emotion.
In her statements the granddaughter of the fallen volunteer hero Kostakis Pentaliotis, Nicoletta expressed her pride and emotion her for her grandfather who sacrificed himself for his country.