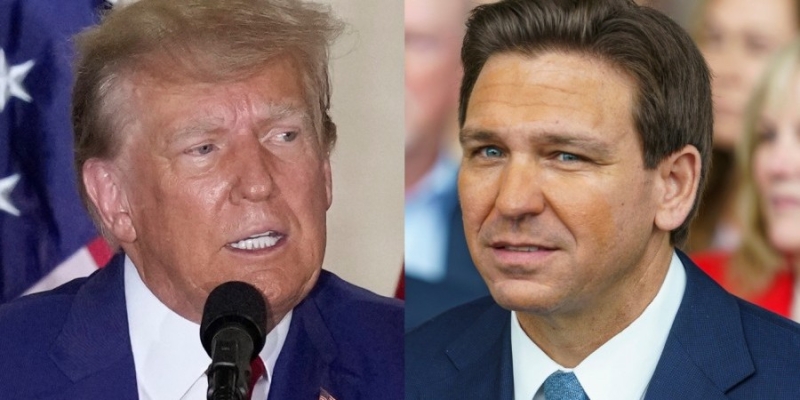 Former and current officials of the Republican party, who for years have been trying to exclude Donald Trump from political life, estimate that the election campaign of the former US president for the 2024 elections has begun to have so much momentum that they fear he is by far the favorite to win the party's anointing.
Although the race for the Republican nomination is still in its early stages, the angst among "Never Trumpers" – a small group of Republicans who have opposed Trump since he was elected president in 2016—is a sign that the billionaire is gaining ground on his main rival, Florida Gov. Ron DeSandis.
Embattled in cultural disputes, DeSandis risks falling behind Trump, who has raised more campaign donations, is polling better and has the support of more lawmakers.
According to a Reuters poll./Ipsos in early April, Trump leads DeSandis by a wide margin among Republicans and independents, 58% to 21%. Other polls among Republicans also show Trump increasing his lead over DeSandis.
"Never Trumpers", some of whom have left the Republican Party but are still working to undermine Trump in the election, say their hopes for DeSandis are dwindling.
Some have quit altogether.
"If we could stop Trump from running, we would. But he will be the candidate» of the Republican Party, said Reed Gallen, co-founder of the Lincoln Project, a well-known anti-Trump group that includes current and former Republicans.
The Lincoln Project has spent millions of dollars on anti-Trump posts on social media, television and newspapers in 2020. It's already looking beyond the 2024 Republican primary, according to Galen.
The organization will continue to raise money for ads to attack Trump in swing states, he explained, not to prevent him from receiving his party's nomination, but to hurt him ahead of the 2024 presidential election.
DeSandis' mixed messages about US support for Ukraine, his reluctance to respond more decisively to Trump's attacks and poor polls have also discouraged donors.
But political analysts stress it is too early. yet, as DeSandis isn't even officially running for the Republican nomination.
Change
The fortunes of both Trump and DeSandis may be changing: after the defeat in the midterm elections of candidates who had supported the former president, some Republicans felt that he had weakened and it was time for a change. DeSandis, who easily won a second term as Florida governor, emerged as his successor.
But Republicans rallied around Trump after the indictments against him.
He has since received congressional Republican support for his re-election bid. In total the billionaire has won the support of 67 elected Republicans, including 57 members of Congress, according to the website FiveThirtyEight.com. DeSandis has the endorsement of four.
Usually any candidate who wins the support of more elected officials in his party also wins the nomination.
In addition, Trump has raised nearly $19 million in donations to his campaign in the first quarter of the year, while he has stepped up his attacks on DeSandis.
Reluctant Donors
The Florida governor's approval of a bill banning abortion after the 6th week of pregnancy, his state's book ban and his standoff with Disney have made some big donors hesitant.
"If it weren't for the issue of abortion and banning books, there is no question, I would support him," said Andy Sabin, a metals magnate.
But many Republican donors have grown weary of Trump. Some see him as chaotic and unelectable, according to Reuters interviews with nearly 25 donors and their associates.
While many donors believe the best candidate to beat Trump is DeSandis, they admit they have no is making concerted efforts to weaken the former president. Some say they want to support DeSandis, but are not yet willing to do so.
Source: EPA