He got what the Sa Pinto team was looking for and is asked to finish the work on the GSP furnace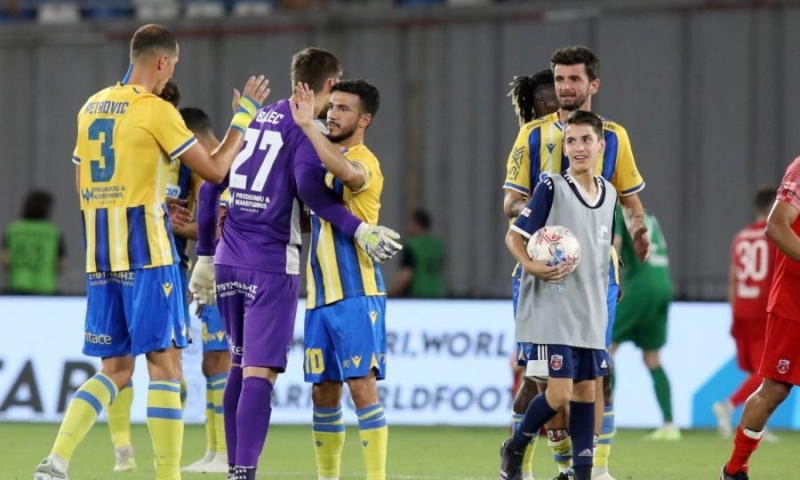 APOEL triumphed over Georgia taking a big step towards qualifying
Mission accomplished for APOEL. Ricardo Sa Pinto's team got the gist in Georgia, managing to prevail 2-0 by Dila Gori, a score that gives them a big qualification lead.
APOEL was bad in the first half and there were moments when it was quite difficult for the Georgians, who had dominated the entire 45 minutes. The "blue and yellow" couldn't keep and circulate the ball as a result of which Dilla Gori constantly renewed the possession. The hosts were more demanding and created issues for the Nicosia team. Fortunately for him, APOEL managed to score in the stoppage time of the half with the goal-rebound of Crespo, who sent his team to the locker room with a lead.
APOEL's cynicism and experience "spoke"
In the replay, APOEL showed a noticeable improvement and the changes made by Mr. Sa Pinto significantly contributed to this. Especially Vijafanies and Ephraim gave new life to APOEL. The latter sealed the victory with the goal he scored while the Argentine managed to bring balance to APOEL's midfield. Dvali and Belets were also very good, who were a guarantee at the back.
Dila Gori may have stressed the Sa Pinto team at times, but she didn't have that extra something needed to do the damage. On the contrary, the quality and European experience of APOEL "spoke", who brought out "cynicism" in their game, an element which is necessary for a team to have in European matches.
This is their 3rd victory. APOEL in the same number of official matches with Ricardo Sa Pinto in the technical leadership of the team. The start of the Portuguese on the bench of the "blue and yellow" is very positive as far as the results are concerned, a series which he will try to extend.
APOEL got the point in Georgia and will try to finish the job next week in GSP furnace. The absence of Crespo is quite important, but the "blue and yellow" will not have any problem to achieve their goal if they are serious and disciplined. Having the 12th player on their side they will try to win for the 2nd time Dilla Gori and pack their bags for Belgium.