Poor display from the blue and yellow who got a point thanks to their goalkeeper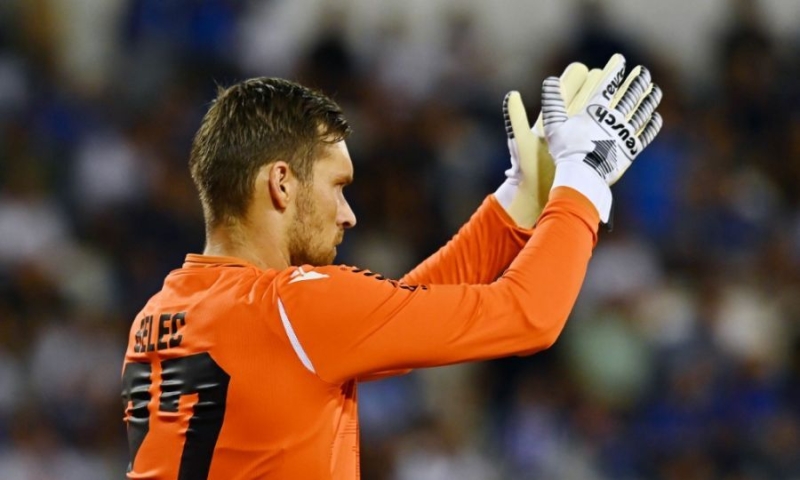 APOEL failed to return to winning ways. At "Antonis Papadopoulos", he performed below average and drew 1-1 with Anorthosis, with Ricardo Sa Pinto sent off at half-time of the derby. The "blue and yellow" had a good time in the first half but made easy mistakes losing possession.
In the second half they did not manage to find a good rhythm and lagged behind in the development of their game and in creating phases. Good thing again that they had "guardian angel" Belets who with his saves kept the point.
APOEL was… tolerable in the first half but did not manage to go to the locker room with a lead. As with Apollon in the derby of the previous matchday, the blue-yellow team equalized in the last phase of stoppage time, again showing weakness.
At the start of the match, they had a slight advantage in possession of the ball and managed to take the lead in the 21st minute with Kvilitaia (penalty). It is the first goal of the Georgian forward in the 2023 – 2024 Championship season.
In the last minutes of the first half, however, they retreated, were under a lot of pressure from the hosts and in the last phase, they conceded the equalizer, leaving Waris to cross half the field (51m!), without being stopped.
Without Sa Pinto on the bench (he was sent off immediately after the end of the first half), APOEL changed several things in their game. In the 46th minute, Wilson took the place of Dogala, who could not continue due to injury.
In the 61st minute, Crespo entered the game (instead of Vijafanes) and Petrovic was promoted to midfield. In the 70', the technical leadership of the blue and yellow "freshened up" the offensive line by putting Ephraim, Fetfatzidis, at the two ends instead of Kvilitaia and Markinios. Gabriel took the place of Sarfo in the 82nd minute, who gave a lot of strength and started making mistakes.
Vid Belets was the best and most valuable player for APOEL. The Slovenian goalkeeper made at least three saves. His best moment was the save from close range, a header from Castel in the fourth minute of stoppage time. In the goal he conceded, he fell correctly, but he seemed unlucky after the ball bounced and changed direction.
Petrović, Markinios were also very good. Everyone else fell behind. Young Vital made too many mistakes and was careless. The value of the absent Dalsio and the energy he gives to the game was very clearly seen.
Generally APOEL's performance was bad and they got the point thanks to Belets. Apart from the three players we mentioned above, all the others did not really help.
As for Sa Pinto, we believe that his future is ominous at APOEL. The managers of the blue-yellows seem to be unable to stand his explosive character any longer.