To end a five game winless streak
APOEL today welcomes Omonia as the usual home team at GSP at 19:00 for the 6th matchday of the league playoffs and its only goal is victory, hoping that Aris will "freezes" against Paphos to be back at the top of the standings.
The "blue and yellow" measure a negative streak of five games without a win, as in the playoffs they have not yet been able to taste the joy of three points. Specifically, APOEL has to celebrate three points from March 6 in the match against Nea Salamina, where they won 3-0.
Today Vladan Milojevic's team is called upon to do their duty and return to winning ways. results after almost a month so that she can hope for her return to the top with a possible "gela" of Aris against "thirsty" Paphos.
The Serbian coach today is called upon to present a different APOEL, in the offensive sector, as the team in the last two matches was "unstable" and in order to get the three points today, it must become "cynical" again, scoring goals.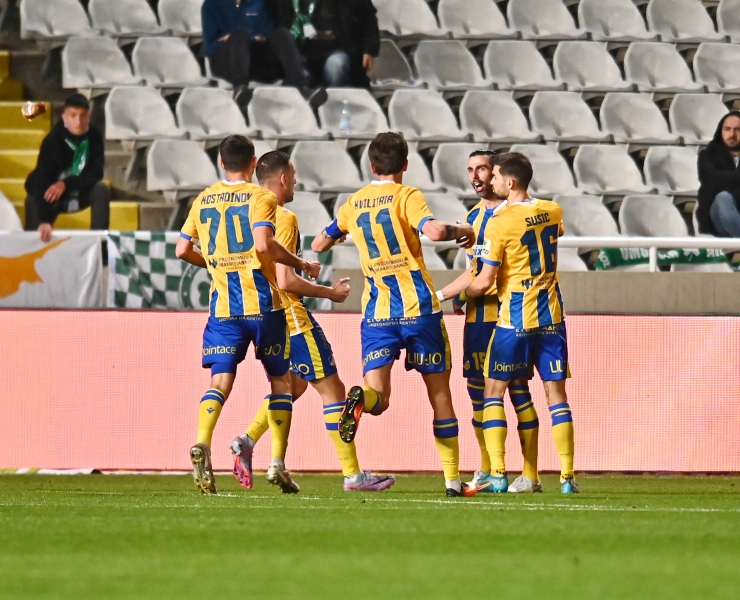 From there, the Serbian coach will make at least one change to the starting formation in relation to the game against Aris. Ben is the favorite to take Villafanies' place in the starting line-up, without ruling out, however, the possibility that Milojevic will prefer to move Dalsio to the axis and give Donis a starting shirt.
Under the goal posts will Belets is found for one more match. Dvali did quite well against Aris and is quite likely to keep his place next to Crespo. Susic and Ferrari will compete at the two ends of the defense.
The presence of Sarfo and Konstantinov is a given in the midfield. In the wings, Ndongala is expected to be retained. Dalsio also has a commanding position in the starting line-up, who will either compete as a winger or as a full-back. In the first scenario, Ben will take the starting jersey and will compete behind Kvilitaia, while if the second scenario is confirmed, then Donis will claim a place in the eleven.