The Blues' two backs are called upon to limit Gayle and Gomis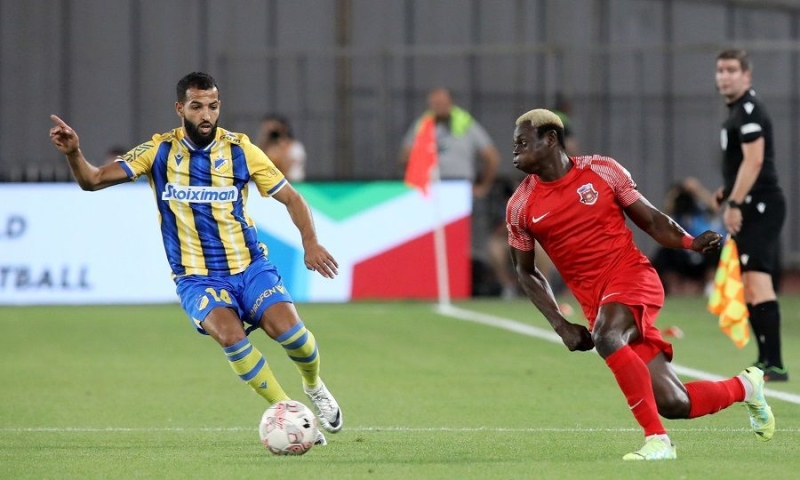 They count backwards in APOEL for tonight's rematch with Dila Gori in GSP. Sa Pinto's team is asked to avoid easy mistakes and limit the strengths of the Georgians.
One of the strong "weapons" of the opponent of the "blue and yellow" are its two wingers. Thierry Gayle usually plays from the left, while Honore Gomis plays from the right.
Both in the first match in Tbilisi, they made the work of Cebak and Susic difficult as they were sidelined several times by the ends of the attack, resulting in to become several times threatening towards Belets home.
Especially in the 2nd half when from one point and then Susic ran out of strength, Gale basically did what he wanted on the left wing and if the young Georgian winger had been more focused, then he could well have "hurt" the home team of the Nicosia team .
Therefore, limiting Gayle and Gomis is crucial for the outcome of tonight's match and Sa Pinto knows this very well. The Portuguese coach drew attention once again to his players and especially to Cebak and Susic who apparently have the most difficult task.
In "Archangel" they are thirsty for qualification to the Conference League playoffs and they don't want under no circumstances to be surprised in tonight's replay. Dila Gori is a team that can at an unsuspected time do the damage and APOEL is asked to limit its strengths.
Consequently, with absolute concentration and faith in the plan, the "blue and yellow" approach today's match with the aim of being… non-negotiable!
Match broadcast sponsor Stoiximan