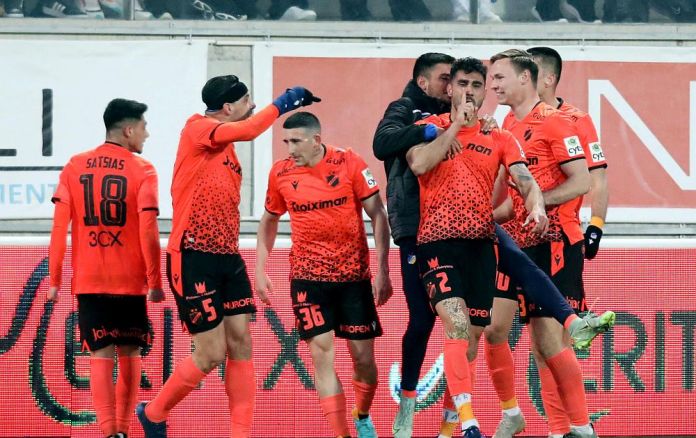 It has not been long since APOEL won the championship seemed to be equivalent to a "miracle". Less than three months ago (specifically before the "eternal" of December 26), the azure-yellows were in seventh place, at -12 from the top and were fighting to enter the top six & # 8230; They themselves had not stopped believing it, but this ambition was met with ridicule by many.
Now, the situation is very different. The undefeated series of 15 games put APOEL in the title game for good, while its reaction after the defeat by Anorthosis (got seven of the nine points) and especially the huge double that it celebrated today (13/3) at home. AEK, make him a serious contender for the championship and give him the opportunity to be in a week up to -2 (!) If he beats the champion Apollon in GSP.
It took a little luck for the big victory to come to "AEK Arena", but APOEL also had great protagonists.
It was of course Karo, who took the chestnuts out of the fire once again, with his goal in 96 & # 8242; (fifth in the season, third in the last minutes). It was Michael, top in performance, as a change came in the b & # 8217; part and emerged victorious in all four great opportunities of AEK that had to face & # 8211; two of which in delays, before 2-1! It was Okriashvili who made one of his best matches with the blue and yellows, it was Souza who increased his speed in the second half and contributed to the pressure exerted by his team, it was also Augusti, who managed the match, his entry Maglitsa (helped a lot even though he was sent off in 88 & # 8242;) and the displacement of "Okri" from the axis to the ends.
APOEL is believed more now than ever how they have the potential to complete the big counterattack that they have started and already on Sunday night they started the call to their world to fill the GSP on the night of the 20th of the month. Where, with a new victory, against Apollo, it will be at -2 and will be (essentially) on (almost) equal terms with the Limassol, with not two and three, but with another seven games pending to complete the overthrow./p>