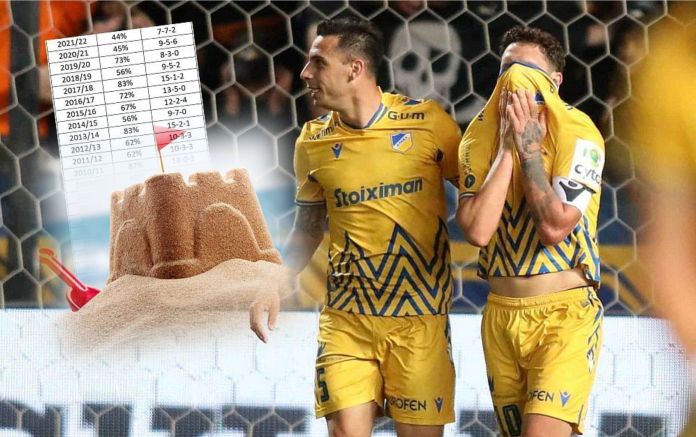 Although the APOELists are not accustomed to not failing a season in which their team is not crowned champions, it is a fact that, under the circumstances, the loss of the title can not be considered a failure & # 8211; especially if second place leading to the Champions League is secured. On the contrary, it is nothing short of impressive for the blue and yellows that after their tragic start, which at some point brought them to -13 from the top, they came to claim the championship in the last games.
APOEL approached the big upset, but did not complete it. There are a number of reasons why he did not succeed, among which we could single out the inability to take advantage of his headquarters.
The former & # 8230; his castle, only such did not resemble (nor) this year. Especially in the playoffs, the GSP lost opportunities for victories that would change the scene and the chances & # 8230; title. Only one of the five matches (with Paphos) won by APOEL at its headquarters in the b & # 8217; phase, staying in the tie with Aris, Apollon, AEK and Anorthosis. It is indicative that if in the playoffs he made 5/5 at home, now he would be at +2 and & # 8230; almost champion.
Sofronis Augustis's team will finish the season with a total record of seven wins, an equal number of draws and two defeats. And it is only the second time in the modern history of APOEL (since 2000) that it wins less than half of the home games! The previous one was of course last season, in which the blue and yellows broke a lot of negative records and participated for the first time in the b & # 8217; playoff group.
What is impressive, however, is that this year, when APOEL claimed (finally) the championship with claims, its percentage of victories in home matches is even worse than last year's disastrous season! Last season the blue and yellows won 45% of their games as hosts (9-5-6), while this year 43.75% (7-7-2).
See the percentage of APOEL victories in the home league matches since 2000: