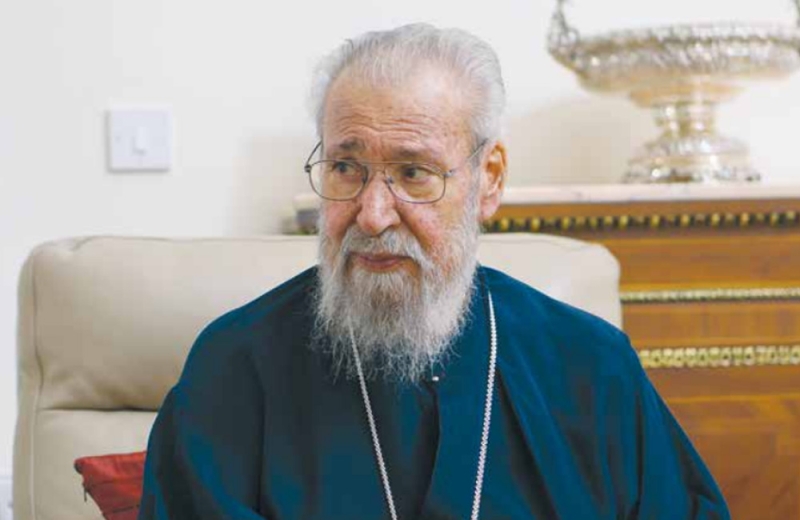 Although Archbishop Chrysostomos states that he does not support any of the presidential candidates, he does not hide his special sympathy for Nikos Christodoulidis, comparing the support he receives with the one enjoyed by Archbishop Makarios. He believes that President Anastasiadis, because he is a smart man, will keep equal distances, although according to his information, the President's children support Nikos Christodoulidis. He also estimates that Averof Neophytou will not be easy to pass to the second round, while for AKEL he claims that whichever candidate he chose would be handcuffed and this he said to both Andreas Mavrogiannis and Achilleas Dimitriadis.
He also attributes to Nikolas Papadopoulos, a wrong tactic to criticize DISY and AKEL, since he has to cooperate with either party anyway.
In the interview he gave us, he also talks about the issue of his health and about those who are discussing his death, making scenarios for the archbishopric elections.
Nikos, the new Makarios
Are you watching the election process? We already have many presidential candidates.
Thank God.
Are the rumors that want you to support Nikos Christodoulidis true?
Let me tell you. I am not close to anyone, but I saw that after Makarios, only Christodoulidis has popular support. No President had popular support.
In fact, a DISY MP told me that he learned that I support him πα I told him I do not support anyone, but I see that Nikos has a popular support that no President had, not even a candidate for President.
Did you meet him?
They cheated on him the day before yesterday.
Who cheated on him?
The communication specialist. I told him that Tassos Papadopoulos, the deceased, had sent me his communicator to advise me on the archbishopric elections. He had come to tell me about A, B, C, etc. I told him: "Well, I'm not today. "I have been a metropolitan for 30 years and I did not do these things and I will do them now?" The people would say: "did he smell roast and do such things now? It would be to my detriment to hear what the communicator was telling me. " I told him that I would be elected, and then he would come and set the table for me and explain to him why I won the elections.
What did you advise Nikos Christodoulidis?
I told him: "You had to understand that he was not your man and he wanted to trap you. I watched you and you talked, bro, for half an hour. Didn't they make you 10 minutes? Be careful of damasks and they will not set another trap for you, because you have a qualification that others do not have. You have popular support. "
What do you hear from those you talk to about the elections?
A member of parliament, my friend, came and told me that if we assume that my friend Nikos is elected the new President of the Republic, what will he do with the Parliament that does not have deputies to support him? And I asked him to tell me, how many deputies did Makarios have? He stayed and saw me. A man who has a popular base, has power. Let the Parliament go and pass a law that the government does not want. If 10,000 people come out of Parliament, what will happen?
You once said that you are DIKO. Nikos Christodoulidis is DISY, as he himself has stated.
He is an independent candidate, he is not of the Alarm.
Unforgivable mistakes Nikola
Do you think that DIKO will support him?
I think so. About two years ago, I called Nikolas Papadopoulos and told him: "Nikolas, you are a smart man. You now have some years to curse AKEL and Alarm. "Which curse are you going to work with tomorrow?" These are unforgivable mistakes. I am not a politician. I once needed a vote and they made the mistake and they voted for me and I will stay until the end. Did you meet other candidates?
First I saw the son of Lellos, with whom we know from afar. I told him: "I learned that you are a decent person. If you remain decent, you will not become an AKEL candidate. AKEL will tie your limbs to put you as a candidate. Where do you live; On the moon, are you not a resident of this island? Did not you understand that the leftists are agents of the British? ».
Agents and even of the British? Heavy this Blessed.
If you are a journalist and you do not know, you are at a disadvantage. From the time of the Pope, not now.
AKEL chose Andreas Mavrogiannis. He does not appear to be handcuffed.
He came yesterday (Wednesday) and I saw Mavrogiannis. I told him the same things I said to Achilles Demitriadis. He told me that so far nothing had been said to him. I warned him: "If you think they will let you run as you wish, forget it." He insisted that nothing was said to him. "I wish" I told him, "you are a good person, you were a good interlocutor, but a Cypriot yoke, you will not be able to solve it". The Cyprus problem cannot be solved if we do not have a financial background.
Economy is key
And the financial background Will the Cyprus issue be resolved?
We will go to the talks and clap our hands at the table and say: "Listen, Mr. Tatar, Tsavousoglu, Erdogan. We must make a proper state, where both Turks and Greeks are served, to live happily and happily as they used to live ".
DISY does not want Averoff either
But you did not tell me anything about Averof Neophytou, who is also a Pafitis.
Pafitis and a friend. Doesn't he understand well when his party does not support him either? To spend the second Sunday he wants over 25% to 30%. Do you think it will reach 20%?
Did you suggest he retire?
No, I have no reason. To do what he does. He made statements against Christodoulidis and sent a letter. I was thinking of telling him that if he had sent that letter politely etc. was to win many votes. Did not he understand that these people have now discredited the parties? I would tell him not to keep this line because he loses and only with goodness does someone win. Christodoulidis is the first after Makarios to have a popular base. Why he got it I can not know. It's all his behavior. They went to blame him for his children because they went to an English school. After all, diplomats, because they take transfers from one country to another, sent their children. He became a minister, what should he have done?
The President and his children
The President has made it clear that supports the president of DISY.
He will support his party.
And Nikos Christodoulidis comes from his party.
I believe it will keep equal distances. I am informed that the children of the President support Christodoulidis. It certainly does not matter, because many times, the father votes differently, the children differently, the woman differently…
They are good at ELAM
You were accused of having relations with ELAM, due to statements you had made in the past…
They are bullies. Today I can tell you that these are piles. I thought they had an extreme line, but I thought they were educated children. Then when I learned that he was with those of the Golden Dawn in Greece then I said: "Oh, a & # 8217; these stones ". I have no relationship with them.
Michaloliakos in Greece, claimed that you had given them money?
I, money, do not think. I liked them at first but then when I saw that they were not doing well, I said, what should I do with the pills? I'm keeping them at a distance.
I'm doing well with cancer
You're known to have serious health issues. How do you experience the situation?
I'm doing well with cancer. I have a problem with my legs. Especially from the day I cut my arm, I stayed in bed for a few days and I was burdened. Before I opened the doors of my apartment all the way down and every morning I walked two to three kilometers. They stayed in bed for ten days and when I got up I could not walk. Although I do physiotherapy, I have not overcome the problem yet.
How is the cancer condition evolving?
It develops smoothly. I am undergoing chemotherapy and I have no problem with cancer. The oncologist has found the right medicine, although they cause me some side effects which I face.
I feel very comfortable, because I believe that God does not give us more than we can bear.
< b> Can you stand it?
God gave me both endurance and patience. And since I believe that it does not give us more than what we can endure, I struggle and overcome the difficulties.
The brothers will be exposed
< p> It bothers you – and I put it on a personal level – that there is a discussion outside the world, even by the clergy, by people in the Church, such as: "The Archbishop is not doing well", "The Archbishop will not live long yet" Αν As a human being, does it bother you?
Personally it does not bother me and most of the time I laugh and say, I do not know how long I will live. Can a month, six months, a year, two years? I can not know. Only God knows that. But I take it for granted that I lived two years. These brothers who are preparing, will not be exposed?
However, some people have been waiting for many years…
Yes, but since I live?
Doesn't all this make you sad?
No. Grieve. For others I am sad. I am not upset by this situation. I'm upset because I'm thinking, 'Where does morality go?' We must also have a little ethos. We can not have such behaviors for our brother and especially for the head, the Archbishop of the local Church.
I was sad with the deceased
If one were to go back in time, one might say that you, as the Metropolitan of Paphos, were also preparing for the succession, when Archbishop Chrysostom I was facing serious health problems.
In that case, unfortunately… while the blessed Archbishop was a very intelligent man, his memory betrayed him and from the age of 65 -young- he began to forget and in recent years he did not communicate. Thank God my memory is good. The legs are not doing well. He could not walk, nor could he speak, nor could he continue to think.
How did you perceive it then?
When he was president of the Synod, an issue could bring it to us two or three times. He did not understand. To protect him, I separated the papers from him and he got angry with me, saying: "why are you holding the papers? They are mine". The others were laughing and I was sad.
He wanted it all his own
After the illness you started to review things , in relation to the Church?
Even when Archbishop Chrysostom I was alive, I said that the Church needed cuts. But the deceased did not want to.
Why did he not want to?
While he was a very smart man, he had a different mentality. He wanted it all his own.
What can an Archbishop have?
He was very smart. If he was an idiot I would say he is so mind-boggling, but he was a smart man. It was the mentality that he brought with him from his family and from Kykko who was a test taker. He wanted and believed that only he thinks right. He considered others inferior to him. I had suggested the incisions I made to him and I had told him that I would be by his side to help him. For the central clergy payroll, he had told me that I wanted the Archdiocese to pay my priests in Paphos. But were the priests mine? Before me he was the same metropolitan of Paphos.
We lost capital and dividends
You made that payroll for the priests, but the haircut and the pandemic came.
Yes, but who thought that the Bank of Cyprus would collapse and we would lose our shares? We also lost the capital, we also lost the income that was 9-10 million euros per year from the dividends. Fortunately we had the hotels and we survived.
And then came the coronavirus
This evil came that I did not believe would ever happen. They paralyzed everything.
We will all die
Our discussion is macabre, but I would dare to ask you about your relationship with death.
I thought about death from a very young age, because I lost my father at the age of 10. He was not 37. It was a tragedy for me, but death was death. Studying theology, I realized that the most certain thing that can happen to a person is death.
What is death?
Death opens up eternity, because God created man immortal. It is obedience and sin that brought death. He created man in the image and likeness of Him. He created him to make him God for grace.
I never feel lonely
Is the archbishopric throne lonely? /p>
No. Not at all.
Do you have people next to you?
If you do not have God in you, you are alone. You have fullness of life.
No matter how we do it, we need people.
Of course, since man is a social being, but what complements the always, it is the presence of the uncle within you. That is, if you do not open your heart, to put God inside you, you are alone. I do not feel lonely since I am steamed all day. I work and when I was still in bed I was working.
I mean what do you do, what do you do when you say you work?
With all her issues Of the Archdiocese and of the Church and of Orthodoxy in general.
*** TOMORROW, MONDAY IN "P" THE SECOND PART OF THE INTERVIEW