The Light Brigade debates football matches as… entertainment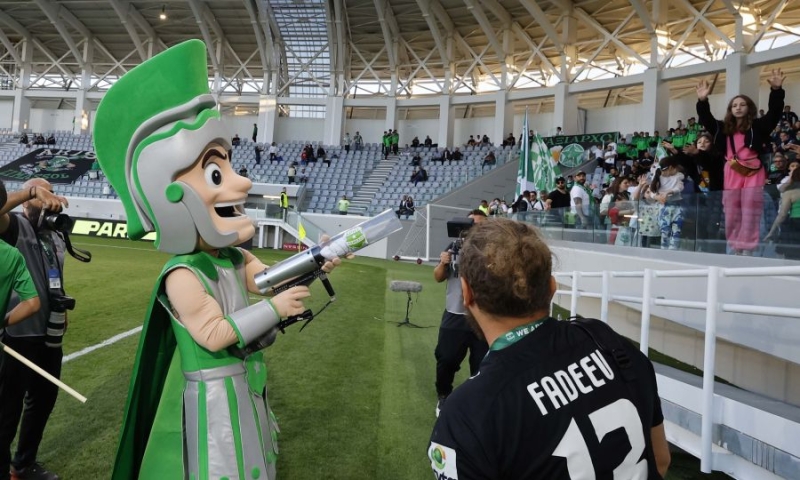 < strong>The game between Aris and APOEL may have ended in a draw, however in the non-football part, the fans who were yesterday at the "Alfamega Stadium" lived a not so Cypriot experience… On the contrary, the "Light Brigade" brings morals and customs from outside, with yesterday's game also having an NBA "smell".
The atmosphere before the start was festive, with loud music and an effort by the man speaking on the loudspeakers to get the crowd into the game. So far there has been more or less no originality, as it is something that happens in several stadiums in Cyprus. Along the way, however, Ares presented its mascot for the first time, which bears the name "Ares". After making his entrance with a low-powered flare, Aris officially introduced himself to the group's friends.
Along the way, he even proceeded with a move inspired by the NBA. Specifically, Aris, holding a T-shirt cannon, threw jerseys into the stands with the friends of the team. Such scenes are often seen in the NBA, where they essentially treat the game as entertainment with a pre game show and the mascots play a key role in bringing entertainment to the world.
The story of the T-shirt cannon
The T-shirt cannon is not a new discovery. In contrast, its history stems from World War II and the British. At the time sailors on merchant cargo ships were vulnerable to air attack as any anti-aircraft weapons they had were transferred to warships. Desperate to protect themselves from enemy attack, the sailors adopted a weapon developed by the Miscellaneous Weapons Development Department. Called the Holman, it could fire projectiles from a tube using steam from the ship's boiler.
Sailors usually threw grenades this way, but when they weren't under immediate threat – which was practically most of the time – they loaded the gun with non-lethal ammunition and that was usually… potatoes.
Over time and after the end of the Second World War, the technology of this particular weapon evolved. It now uses compressed gas, which is piped into an air tank. When the trigger is pulled, the gas is released and the energy ejects whatever is in the tube. From potatoes to… wrapped t-shirts.
But beyond the T-shirt cannon, the music and generally the pleasant atmosphere that prevailed at the pre game show, at the end of the match several children remained in the stands asking players the jerseys, with the latter responding positively.
Overall from Mars it seems like there is a concerted effort to change the way the world deals with the team games. An attempt to entertain the public and in this way attract families, small children and those who see football from a different point of view than what we are used to in Cyprus.