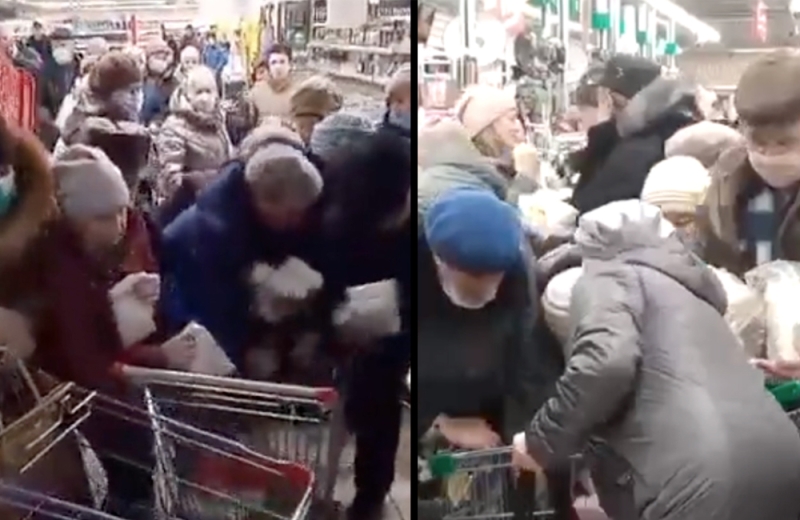 After an hour and a half in the queue for sugar, or -even worse- fighting for it in the shops, the Russians are beginning to feel in their skin the impact of the shortages caused by their unprecedented cut off from the rest of the world.
It is difficult not to compare the sugar queues formed in Saratov with the Soviet era: shortages of basic products after the Russian invasion of Ukraine evoked memories in many Russians.
Packages of sugar and buckwheat began to disappear from local markets in early March, just a week after Russia began its invasion of Ukraine. And when the local mayor's office announced that it would create special markets so that citizens could buy basic products from there, hundreds showed up.
"People are sharing tips on where to get sugar. "This is crazy," Viktor Nazarov told the Guardian newspaper. "It's sad and it's funny. A month ago everything was fine and now we are talking again about the 1990s, we are buying products because ό we are afraid that they will disappear ".
After an hour and a half of waiting in the main square of the city, he only managed to buy a package of five kilos.
Videos posted on social media showed sugar battles in stores and other Russian cities, with officials saying the shortage was part of an artificial crisis.
"What is happening today with sugar has "The aim is to create a sense of panic in society," the governor of Russia's Omsk region, which faces similar shortcomings, said on Tuesday.The sudden shortages are a first taste of the difficult year ahead for Russia, which is characterized by a huge economic contraction, high inflation and an unprecedented cut-off from the world for a globalized economy.
"I think "We are steadily returning to the USSR," said Elina Rybakova, deputy chief economist at the Institute of International Economics, predicting that the Russian government is likely to continue to exclude itself from the world economy. "I do not see it as a temporary shock and that then we will return to liberal democracy and reintegration into the world, unless there is a change of government."
As Russian troops try to occupy Ukraine, shops in some major cities have reported shortages of basic commodities such as tampons. Prices for imported goods, such as Tide detergents, clothing or toothpaste, have also skyrocketed as the ruble has fallen in value.
Sugar fight:
Сахарные бои в Мордоре продолжаются pic.twitter.com/hjdphblFNc

— 10 квітня (@buch10_04) March 19, 2022
The government has blamed panic attacks and speculation on rising commodity prices, saying there is more than enough supply to meet demand.
"As in 2020, I want to reassure our citizens now : we are fully supplied with sugar and buckwheat. "You do not need to panic and buy these goods – there are enough of them for everyone," said Viktoria Abramchenko, Deputy Prime Minister of the Russian Government.The most worrying thing is that drugs like insulin have started to disappear from the shelves of pharmacies. Some polls have shown that Russian doctors are short of more than 80 drugs in pharmacies, including insulin and a popular anti-inflammatory drug for children. Russian officials have once again blamed consumer panic, noting that most Western pharmaceutical companies have said they will not restrict shipments of essential drugs to Russia.
But as Russia's economy shrinks, inflation is expected to soar by as much as 20 percent this year. To ordinary Russians, this would mean "poverty. "Poverty and despair," analysts say. "People were so busy surviving," he said. "By buying basic medicines, basic food, living on meager pensions; the Russians are getting poorer."
Natalia Zubarevich, a regional economist in Russia, notes that the main reason for the recent shortages was not only the damage from sanctions, but also the failure of supply chains and the reluctance to make large purchases, while the value of the ruble remains so volatile.
Thousands of workers have been affected as large foreign companies, including Ikea and McDonald's, have temporarily left the market. Meanwhile, local factories and other employers have also begun cutting production. Earlier this month, AvtoVAZ, one of the country's largest carmakers, was forced to suspend production of some vehicle lines.
Moscow's Sheremetyevo, the country's largest airport, said Monday lay off one-fifth of its staff and suspend further recruitment as passenger traffic slows due to sanctions.
alternatives.