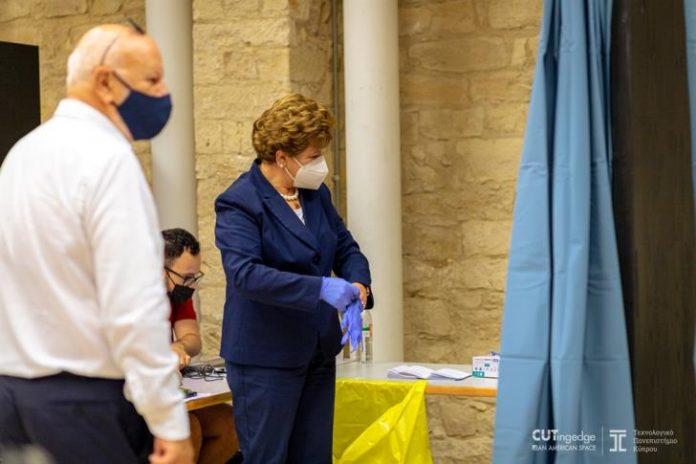 The vaccination program of Cyprus is running at a steady pace as until yesterday a total of 970 thousand vaccinations were given. It seems that there are many citizens who choose the walk-in service, as from the day of implementation of this program, more than 8 thousand vaccinations were performed.
We had a premiere yesterday for the students of TEPAK with the General Director of the Ministry of Health, Christina Giannaki, rolling up her sleeves once again and proceeding with vaccinations. Ms. Giannaki, accompanied by the President of the Parliamentary Committee on Health, Efthymios Diplaros, the Rector, Professor Panagiotis Zafeiris and the new President of the Council of TEPAK, Frixos Savvidis, visited the vaccination center "walk-in" at TEPAK and the satisfaction about the specific program. He added that the Ministry of Health estimates that by the end of August it will be closer to the goals set by the government, for the immunity of the population. "It is something very important for our place, for the interest of public health, for the protection of ourselves, the protection of society as a whole," he noted.
Regarding all vaccinations, Ms. Giannaki called on citizens to proceed without fear of vaccination, emphasizing that this is the only weapon of protection against the pandemic. "With the first dose we have exceeded 73%, with a second dose over 64% and a total of 970,000 vaccinations were given, a percentage over 73%. "This mass vaccination is a weapon against the Covid-19 pandemic."
He added that it is important for students to be vaccinated, so that they can enter the new school year without cases, without ups and downs so that they can continue their academic year.
Asked if new walk-in centers will be operational in the near future, he noted that an effort is being made as well as an effort on the issue of vaccinations of foreigners who are not included in the GESS.
For his part, the Rector of TEPAK, Professor Panagiotis Zafeiris, stated that the official position of the university and the senate is in favor of vaccination. "We call on the whole world to choose and trust scientists and to be vaccinated, we do the same by inviting our students, our staff, our teachers. "We are returning to the classroom with a physical presence, vaccination is the tool we will use to achieve this goal," he said.
Philenews