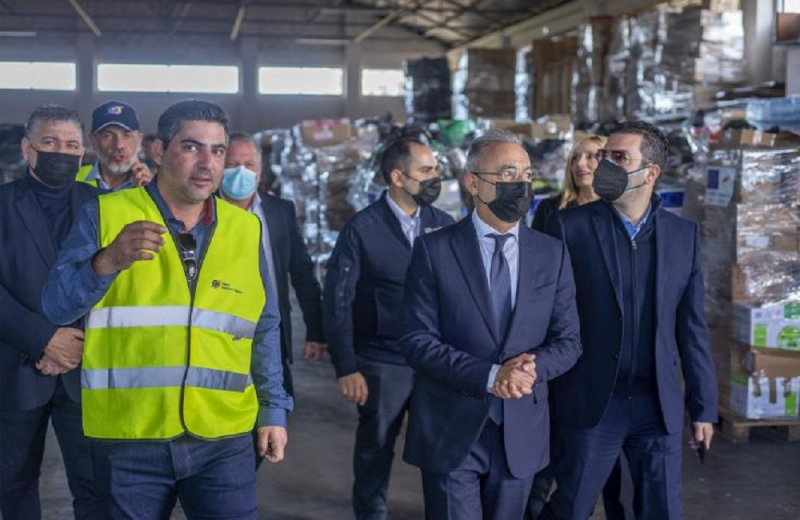 When there is a violation of international law, interference in the sovereignty and territorial integrity of any country, there are no footnotes and asterisks, said on Saturday the President of DISY, Averof Neophytou, leaving tips for AKEL's stance on Russia's invasion of Ukraine.
The President of DISY visited the premises of the Cyprus Ports Authority this morning, near the port of Limassol, where the humanitarian aid of Cyprus to the Ukrainian people is stored, stating that "the contribution of ordinary citizens in supporting the Ukrainian people is touching." p>
He congratulated the youth of DISY and all the bodies that have contributed to this effort, emphasizing that "the Cypriot people know from uprooting and refuge and at the same time, we know how to fully condemn the Russian invasion of Ukraine."
"There can be and there are no discounts on our part in matters of principle", he said and pointed out that "what is happening today in Ukraine is what we experienced as Cypriot Hellenism in 1974, an identical situation".
< That is why, he continued, "it has no condemnation but no" and reiterated that "we absolutely condemn the Russian invasion of Ukraine, separating the decisions of its leadership from the friendly Russian people." remarked if with his statements he "photographs" a specific political faction, he replied that "we also saw the resolutions in the European Parliament, we see announcements but also other politicians who say a word of condemnation and continue with paragraphs yes but."
< p> «Ότ "If there is a violation of international law, interference in the sovereignty and territorial integrity of any country, there are no footnotes and asterisks", concluded the President of DISY in his statement.
KYPE