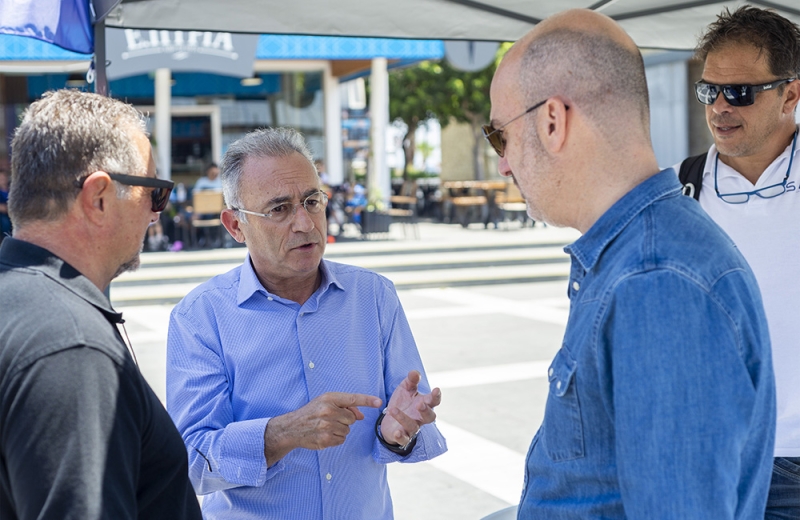 2022 will be like a honeymoon in front of what we will face in 2023 in the economy, said on Saturday the President of DISY and candidate for the presidency of the Republic, Averof Neophytou, who noted that they need experienced hands, good management and "who will be the helmsman".
Mr. Neophytou visited on Saturday morning an exhibition of electric cars and hydrogen technologies, organized by the Institute of Environment and Sustainable Development of DISY, in the old port of Limassol.
In his statements he repeated that there are only two options in the presidential election, "Democratic Alarm, Stability and Security or the Opposition for Overthrow".
"This is the clear message we are sending to the society, to the whole, but also to DISY and to our people," he said, while being asked to answer whether this message is enough, he stated that "we will not let these elections go apolitical ".
Asked for accuracy, the President of DISY stated that" 2022 in front of what we will face in 2023, is a honeymoon. They are coming hard for our country, they are coming hard for the world economy, which in 2023 will go into recession ".
Inflation unfortunately came and will stay, he said, noting that "we will have an increase in lending rates", while he pointed out that "our country is only one step in the investment stage and a slip and we go to the category of garbage".
< p class = "text-paragraph"> The President of DISY stressed that "we need experienced hands, we need knowledge of the economy, we need proper management to face this mountain of economic problems that the world and Cyprus will face".
"But on the other hand I said that we are made of strong metal. "We turn crises into opportunities for our country, but it depends on who will be the helmsman and who will be the Cypriot people to decide," he added.
He also congratulated the Institute of Environment and Sustainable Development of DISY and reminding that we celebrate World Environment Day, said that "Cyprus has two lungs, our Troodos and our Akamas and we must preserve this environmental wealth as a daughter". p>
He also expressed the belief that Cyprus can be the first green country in Europe and the first green island in the Mediterranean, prioritizing the axes "smart cities, smart transport, green energy, recycling and green transition of economy and business ".
" In this way we will make our island green. "Let the golden-green sex become the green island in practice", he said and noted that "it is our place that through innovation we can push it even further".
It was mentioned also on the issue of electric propulsion, indicating that in order to achieve its goal, the charge must also be from electricity from renewable sources. "If we have an electric car and we charge it with electricity produced from fuel oil, zero to the quotient. So we have to have a complete design ", he added.
Source: KYPE