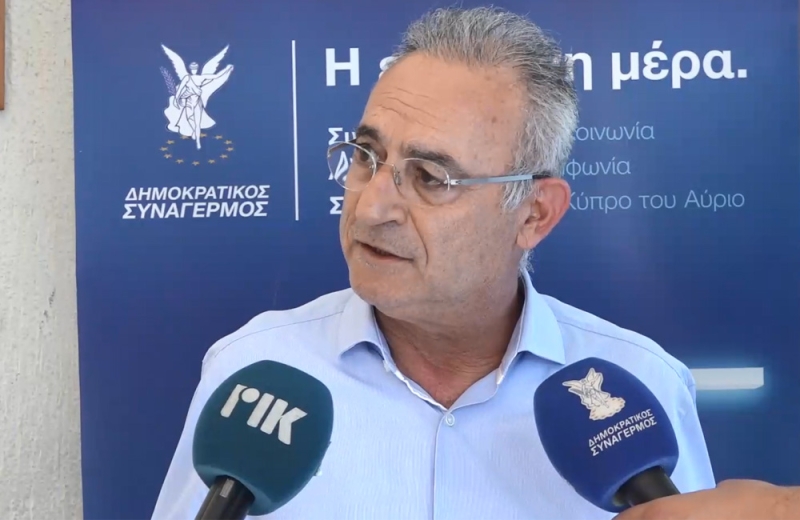 As a citizen of the Republic of Cyprus, the Archbishop of Cyprus has the right to express his opinion on the presidential elections, said the President of DISY and candidate for the Presidency of the Republic, Averof Neophytou, noting that DISY was created to oppose the "blessed methods, mentalities and tactics ", to which, as he said, the Archbishop referred.
In statements in Limassol, on the sidelines of an open discussion on refugee policy, Mr. Neophytou was asked to comment on the reports of the Archbishop of Cyprus Chrysostom II, in an interview with the newspaper "Politis" saying that "the Archbishop is also a citizen of the Republic of Cyprus and as a citizen of the Republic of Cyprus has every right to express his opinion".
"We noted that he referred to the blissful methods, mentalities and tactics. He referred us to that period ", said Averof Neophytou and noted that" the reason that DISY was created is to be against such mentalities and practices ".
Commenting also AKEL Secretary General's reports during the party's Pancyprian Conference, the President of DISY said that "Mr. Stefanou is right when he refers to how important the credibility of the country is, because we know what paddle we drew with an unreliable country that they handed us over to the rocks of bankruptcy in 2013 ".
"With the sacrifices of our people, the responsible attitude of the Government, with DISY as a pillar, we restored credibility but also rebuilt the economy on solid foundations", he added.
Commenting that AKEL Secretary General said that the election of Andreas Mavrogiannis was victorious and that he expressed optimism that he would bring about change, Averof Neophytou said that, while Mr. Stefanou accused the DISY Government of being the Undertaker approach that I do not approve ", at the same time he chose, as a candidate for the presidency, the negotiator of this Government in the Cyprus issue.
He reiterated that the options in the presidential elections are two , "Either the stability of the country with DISY, or the overthrow by the current opposition".
Saying that the global challenges are before us and "the world is entering the worst economic crisis that has been facing for five decades ", the President of DISY stressed that" it is up to the Cypriot citizens to choose if they want DISY or AKEL to have the management of the country with the forces of the center ".
< video class = "wp-video-short code "id =" video-782906-1 "width =" 640 "height =" 360 "preload =" metadata "controls =" controls ">https://politis.com.cy/wp-content/uploads/2022/06/VID- 20220605-WA0001.mp4