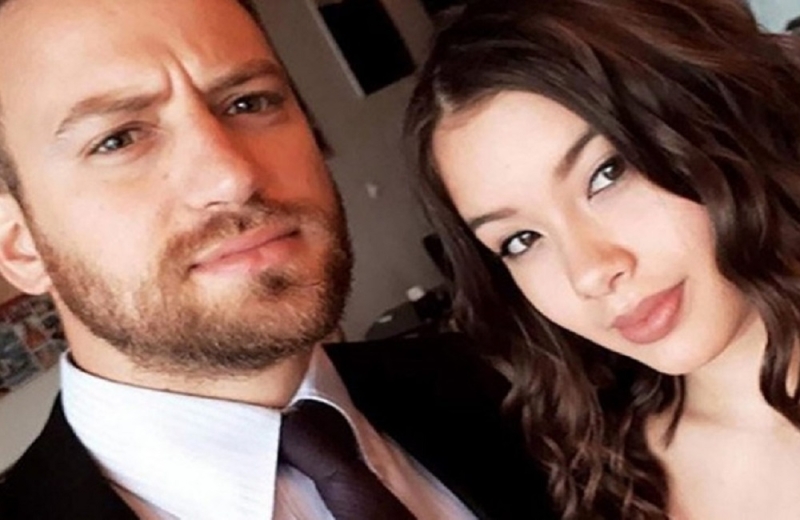 Babis Anagnostopoulos described the critical day of the crime inside the house in Glyka Nera, in court.
He starts the description from the eve of the previous day. It was as if he had swelled. And she arranged to go with her friend.
We came home… The first part was an incident with the little one who had started doing new things. I was with the little one on the couch. The baby tended to get up and there was fear…. At the beginning of the railing of the stairs a garment had fallen and I got up to go pick it up oh and the baby got up alone on the couch. I ran and hugged her agarba and she cried. Caroline got on my nerves and told me it's okay to calm her down… this was the event.
President : It did not seem to be a big event…
Defendant: Then she told me to feed her well and do whatever you want, I'm going to bed. I stayed with the little one too.
President: Things are not very serious.
Defendant: He was a forerunner of an outbreak. I know what will come. This one hour after nerves .. I know I should not add oil to the fire. The usual thing I would do was wait and after forty-five minutes he would send me a message…
Unfortunately that night things did not turn out that way.
I believed and still believe that we went through a lot. We had a perfect match from the smallest detail to all our dreams. Caroline is irreplaceable and is my man.
At one point I received two messages. In one he called me you stupid. I did not do it as a curse…
President : It is a curse
Defendant: I did not misunderstand or take it seriously. Then he sent me a second message that told me referring to the little one, do not bring it on me or leave it in the morning. I thought it was a message to hurt me… Why did not I give it to the child who asked me twice…. Now that I look back today I should get a colleague to take him out of his break. At that moment I did not think so…. This message was in the context of the outbursts. He was a sad man. He is a good man in confusion, not a good man. I did not reply to the message. I let a little time pass. At some point I do not remember how many minutes… .It does not matter…
President: It does matter. Remember everything exactly….
Defendant : After twelve I went up to the room with the room. It had been a while and I went upstairs to sleep together. She refused. I do not remember literally what he told me. Words do not matter…
President: Everything matters from this point in time.
Defendant: Going up the stairs he had said you are not going to vote and you both do not care. When we went up to the room he told me to take a child and leave me alone. Then I went up with the little one two more times.
The wisest decision would have been to sleep with the little one on the couch…
The next time I left the baby next to her and I went to lie down. It was already 1.30…. She woke up intensely…. And that made her angry. I did not expect it της Her anger had not passed. He started shouting loudly… Swearing like words does not matter. Obviously they affected my psychology. But I can not say bad words about Caroline. It was always very difficult for me to say anything bad about her ..
It was a moment out of control. Bad words… .And on the intensity of the moment the little one woke up…. She got up and that took her out of herself. He pushed the child away. It was the first time these explosions, which they had accepted, had hit the ball and the little
President : Did you think your wife would hurt your child?
Defendant: No I did not think so, she was a perfect mother, wonderful. Her daughter was her life. He loved her more than me, more than her life. At the same time at that time I do not know if it blurred so much if he inadvertently hurt her little
President: What thoughts did you have for your wife?
< strong> Defendant: In these moments of tension I do not think if these explosions are within limits. It is blurred to such an extent that it says I do not want the child.
President? Did you think at that moment that it is dangerous for the child?
Defendant: That in an explosion she inadvertently harmed the child dissolved me that I saw the little one in a rudimentary danger…
President : Were you scared?
Defendant : Too much. I was very scared for the little one, not for myself. I was afraid I could not predict her next move
President: Are you afraid that she will harm the child?
Defendant: At the time of the explosion, she hurt the child, unintentionally. I thought that tensions now affect even the smallest. I did not mind him hitting me and hitting me 500 times.
From the moment I once saw the little one being affected, I thought it could happen again.
President: That is, you thought that violence could reach children
Defendant: Inside me, her two parts are completely separated, her outbursts and her general character. As a mother there was no intention to harm her. I try to justify Caroline in everything because I believe that the moment of her explosion is not herself. And that he loves the little one.
President : Were you angry about this incident?
Defendant : Sadness and grief. I was the red cloth at the time.
President: Were you afraid that your wife would be dangerous to the child? A wonderful mother can not be dangerous to her child.
Defendant: When she has an outburst of anger. I do not think so.
President: Your wife's image is not only imaginary but also traumatic. And you see a piece that you did not like even though you describe it to us so wonderful and she through her diary seems to see things in you that she did not like.
I have probably idealized a lot of things for my wife .. I do not remember what time I went up again for the fourth time. I asked her do you understand what you did? It was a big mistake to go up again. I lost my patience. I wanted to hear one I did not mean. Oh sorry. He told me to leave κα I went down to the living room again. There is chaos in my mind… It is two in the morning. I am with the child. ΅It was preceded by an episode with my wife whom I adore. And I did not know what to do with my job….
President: Did something else happen?
Defendant : I thought that the little one had to sleep. I had her in my arms… This did not calm me down because I thought the child had been kicked out of bed.
It all started with a minor incident.
I went upstairs for another attempt so we could all sleep together. I needed it to end the episode. It was shortly after four. Caroline was blindfolded. I do not know if he was sleeping. She realized I was there when I sat next to her in bed.
President : And?
Defendant: I lay down to pick her up hug. He reacted abruptly. She pushed me away with her hand. She shook and told me to leave again μενα I expected her to understand… If it had been another moment I would have got up to leave. But I was very confused.
President : You asked for it another time and you handled it differently.
Defendant: I preferred to apologize to the child. I was waiting for it to end…
President: Why did this make you so angry this time?
Defendant : I'm in like that for the incident that happened to the child. I expected that like all incidents of violence in our previous lives, this would pass.
President: Woe to us if we go beyond our limits for such events.
< strong> Defendant: I climbed on her because as she reacted I did not want to hug her. Do not try to find logic in my psychological state. It is an alloy of anger sadness indignation and it all multiplied during me and the child so long on the couch. It was the first time that her outburst involuntarily took her child… ..I was trying to find a solution and calm the spirits. I finally lost control.
President: What was your purpose when you got on her body?
Defendant: Listen to me and calm down… This time was the exception and not the rule.
President: The exception does not give you the right to remove a life τε Did you really think you would calm her down?
Defendant: It was a completely blurred moment. I'm not saying it was the right way. And I say it was wrong. I tell you what my intention was. What happened to how blurred I am… I will not find logic because there is no logic in a blurred mind .. Maybe I have reached my limits…. A million times I went back and one million did something that I will regret every minute for the rest of my life.
President: Does this feeling ever get out of control?
Defendant: It was a mistake to go back in time who was sleeping and waking her up.
I stayed on her body for four or five minutes.
President: What did the victim do?
Defendant: After a mess… .I used a pillow .Go shout at me… I do not want to say what he said.
President: You are defending yourself. another was dangerous at the moment not her.
Defendant: Right.
President : What was your purpose?
Defendant: Something like this happened… I will never forgive myself and inside I do not know how I thought. It's obviously not his fault..My mind was so blurred… There is no logic. I can not explain it to myself that I ask myself five hundred times every day.
President : You do not understand the intensity of her body? That we are leading this girl to death.
I loved her and I will love her forever.
President: You did not think about your love for this girl, the woman of your life, you had her life in her hands. At that moment you did not think about your love for this girl? Didn't you think about your child? This is how you defended your child
K defendant: All this is a clear mistake. Nothing went wrong.
President : In those five minutes you did not think that this is the woman of my life, the mother of my child….
I could not have imagined that the little one would grow up without her mother.
President: Have you not thought about how this child will grow up without his mother and father?
Defendant: There was no way I could think logically and accept it. Never ..
President: You have become violent and lead a man to death The mother of your child. What were we thinking at the time that you were out of your mind?
Defendant : What had preceded. My explosion did not make sense. Of course I should not have done all this. It is certain that I have a responsibility in things that may have led… .In a relationship of four years I have made many mistakes.
I thought he had fainted. We're in a situation where I're leaving Caroline… and I'm seeing something I can not believe. I say faint… And I'm approaching…
President: You are on her pillows for five minutes, do you see that she has lost consciousness and you say that she has fainted? when do you realize she is dead?
Defendant : When I saw her in the face.
President: So you shot her? /p>
Defendant: I'm trying to describe something very painful. I did not turn it. I saw her profile, half her face. I saw pulses and before that I saw my eyes open ..
President: How did you react?
Defendant : I started crying to pull my hair and go up and down the room. Chaotic my mind and beyond. What happened has not occurred to me. I immediately thought of the child. What will he do