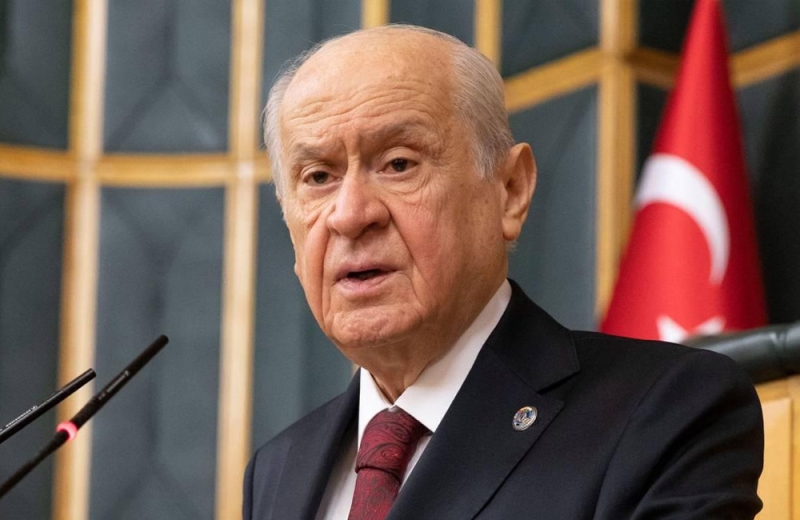 Cyprus is Turkish and will remain Turkish, said the leader of the far-right Nationalist Action Party (MHP) Devlet Bahceli, arguing that no matter how much the Greek Prime Minister opposes, there is no other way out in Cyprus than a two-state solution. Devlet Bahceli described Kyriakos Mitsotakis as "insidious and deplorable" "like his grandparents"
Speaking to his party's parliamentary group, Devlet Bahceli said that "the Greek Prime Minister's visit to the United States, the suspicious and vicious scenes during this visit, have repeatedly revealed the growing prejudice against Turkey and the Turks." .
He went on to say that the USA and Greece were on the same line. "It is quite problematic for us that the 42-minute speech of the Greek Prime Minister in the US Congress was applauded 37 times, of which 10 times he stood up. "We do not know what the deputies expected from Mitsotakis's speech, but if we know anything it is that they took a common stance against Turkey," he said.
According to Bahceli, "referring to the Cyprus peace operation in 1974, the Greek Prime Minister, who claimed that Hellenism had suffered for 48 years and had an incurable wound, ignored the facts and tried to hide the barbarity."/p>
He further stated that, "first of all let everyone know that Cyprus is Turkish, it will remain Turkish. No matter how much Prime Minister Mitsotakis opposes, there is no other way out in Cyprus than a two-state solution based on sovereignty and equality. The will of Turkey and the Turkish Cypriots is in this direction. Either they will accept it willingly or it will be done the way I want it ".
Continuing, Bahceli referred the Greek Prime Minister to" remember the massacres, the bloody attacks, the tortures and the atrocities committed against the Turkish Cypriots "and stated that" the fate of Cyprus is not Hellenism, but Ottoman rule ". That this Prime Minister, "who cowardly hid under the wings of the United States, aspires to become the pawn of the West, is a historical humiliation, a weakness," he added.
He said then that "Mitsotakis, who brought the map of the Blue Homeland to the agenda during his meeting with the US President and complained about Turkey, is as cunning and deplorable as his grandparents. Let the Turkish nation end the policy of harassment and provocation of Greece ".
Source: KYPE