Συντάγή της Αθηνάς Λοϊζίδου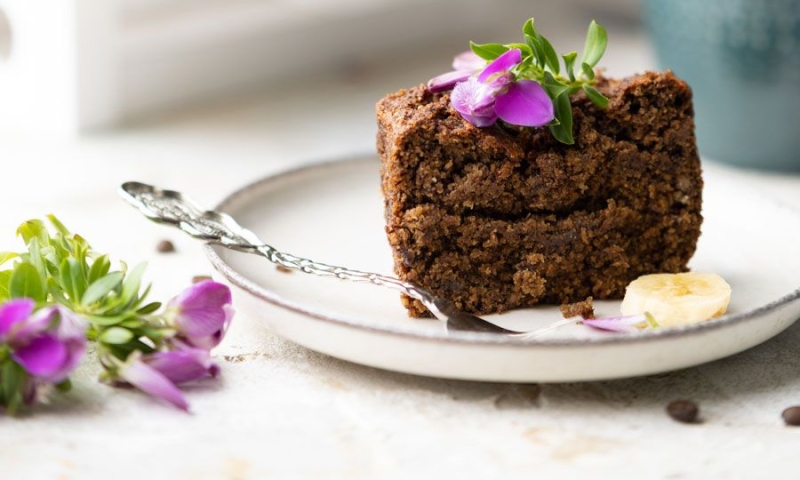 watch video
This banana bread cake is vegetarian and vegan.
You can enjoy it as breakfast or as a sweet snack in the afternoon. The rich taste of coffee gives it a special taste, while the creamy banana creates the perfect soft texture.
Preparation time: 15 '
Baking time: 1 hour
Servings: 10 (approximately)
Calories: 280 kcal per 100 g.
with greaseproof paper
MATERIALS:
150 gr. oat milk
2 tbsp. instant coffee
260 gr. (3 large or 6 small) ripe bananas, melted with a fork
50 gr. almonds, ground
200 gr. hot flour
200 gr. raw brown sugar
1 tbsp. baking soda
1 kg baking powder
45 gr. olive oil
½ etc. salt
EXECUTION:
1. Preheat the oven to 160C, in air.
2. Put the oat milk in a large bowl and add the coffee. Stir until the coffee dissolves.
3. Add the flour, almonds, sugar, baking soda, baking powder, oil and sea salt. Finally, add the mashed bananas and mix well.
4. Pour the mixture into the prepared pan. Put the pan in the oven and bake for 50 minutes with 1 hour until our cake turns reddish and a knife dipped in the center comes out clean. Once our cake is ready, let it cool for at least 10 minutes before serving.
Find more recipes at athenarecipes.com