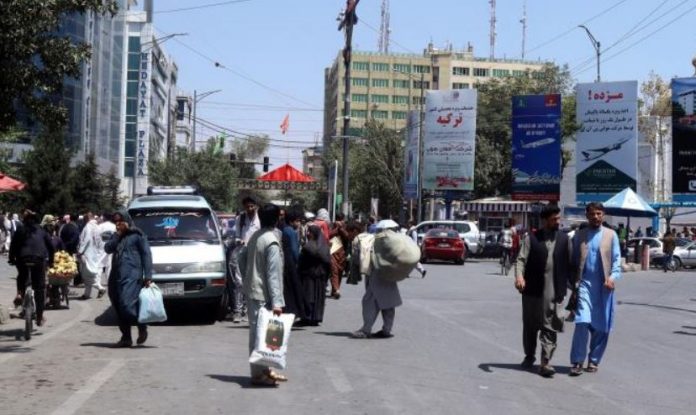 Thousands of people flocked to banks in Kabul today to withdraw a limited amount of money as banks set limits on cash withdrawals to prevent capital from flowing out of the country.
Large queues formed in front of various banks, with Taliban members on guard, others dressed in military uniforms and others in civilian clothes.
Banks have been closed for more than a week after the Afghan capital fell to the Taliban on August 15. When they reopened, they reduced their cash withdrawals to 20,000 afghanis ($ 200) a week.
The bank branches were full because the city has a minimum of ATMs.
After the fall of Ashraf Ghani's government, the value of the local Afghani fell 15% against the US dollar, raising the prices of many products.
Financial uncertainty
Ever since the Taliban took over the country, rumors have circulated that money is no longer safe in banks, said Ami Hamza Bawar, general manager of Naway Kabul Bank's headquarters in Kabul.
According to him, delays in the formation of the Government and uncertainties about future economic policies are causing the existing chaos.
The banks reopened just a few days ago. Afghans desperately need money to run their businesses and buy basic necessities.
People make withdrawals instead of deposits, which is why banks have placed restrictions on cash withdrawals, according to Bauer.
He added that the central branch serves about 3,000 customers a day, which is not an easy task for staff. He expressed optimism that the situation of the banks will soon return to normal.
Price spike, capital flight
Businessman Azmal Rahimi told the Turkish news agency Anadolu that cash withdrawals were restricted to prevent capital from flowing out of the country. "But people in the country are worried about rising prices for basic necessities and need more money to support their families," he added.
Hussein Ahmad, another Kabul resident who was waiting outside a bank, said cash withdrawal limits were a problem because some of his family members were ill and needed more money.
Student Emin Jouyar said he had been waiting in line at various bank branches for the past two weeks. "We want to withdraw money to maintain ourselves. "Unfortunately, several branches are closed and those that are open are full of people," he added.
Marouane Mohammedi, another businessman, said the Taliban had maintained security and now had to focus on the economy. "The people of Kabul are facing a number of issues. "We want the new government to be announced as soon as possible, in order to solve the people's problems," he said.
RUN and POWER Group: Enhanced Living Experience.