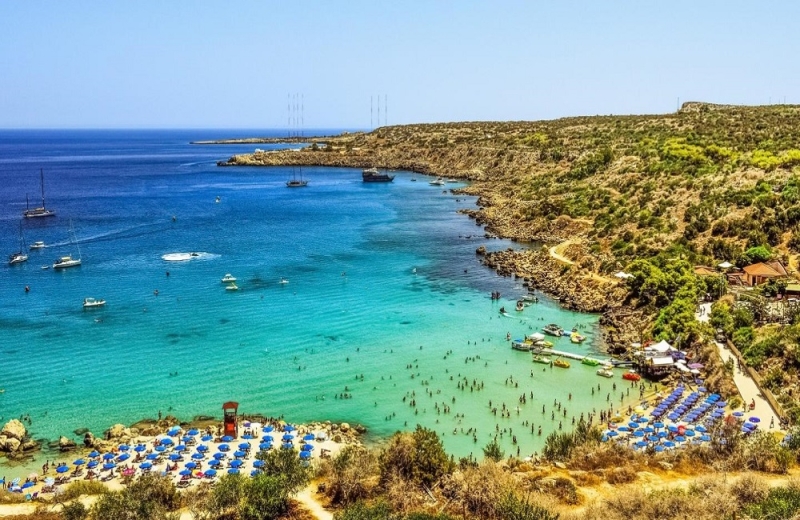 Swimming is an extremely popular and important leisure activity in Europe. The 2021 annual assessment of European bathing sites shows how well environmental protection measures are implemented, allowing citizens to make informed decisions about where to swim without risk to health in 21,551 officially recognized bathing sites in the EU, as well as and 119 in Albania and 189 in Switzerland.
The quality of European bathing water remains high
Bathing water quality in Europe has improved significantly in recent decades. The systematic monitoring and management introduced under the Bathing Water Directive (BWD), (EU, 2006), large investments in urban waste water treatment plants and improvements in wastewater networks, have led to a drastic reduction in organic pollutants released through untreated or partially treated urban wastewater. Thanks to these continuous efforts, swimming is now possible in urbanized and previously heavily polluted surface waters. This shows how consistent and well-implemented policies can make a difference.
Figure 1: Percentage of excellent quality bathing water in Europe in 2021
< p>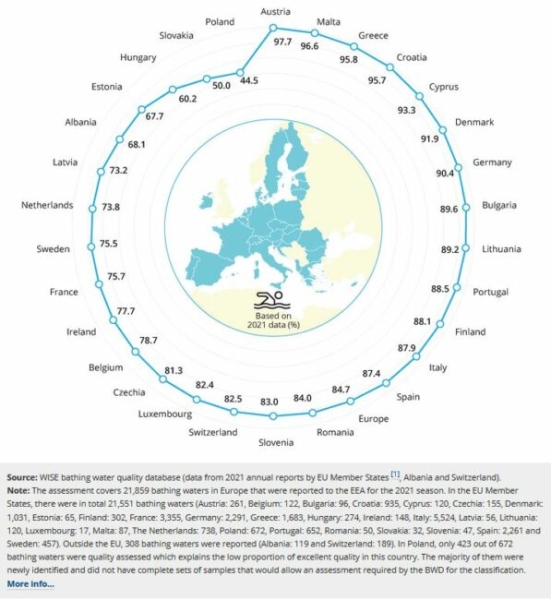 Of the 21,859 bathing areas in Europe in 2021, 84.7% were of exceptional quality (Figure 1). In four countries, 95% or more of the bathing water was of excellent quality: Austria, Malta, Croatia and Greece. In addition, in Malta, Bulgaria, Romania and Luxembourg, all assessed bathing areas were of at least satisfactory quality by 2021 (Figure 2). The percentage of European bathing water that achieves at least "sufficient" quality (the minimum quality standard set by the directive) increased from just 74% in 1991 to over 95% in 2003 and has remained fairly stable ever since.
One of the main requirements of the directive is to ensure that all bathing areas are of at least "adequate" quality by 2015. By the 2021 bathing season, 95.2% of all EU bathing areas met this minimum quality standard .
Figure 2: Bathing water quality in Europe during the period 2021 (EU countries, Albania and Switzerland)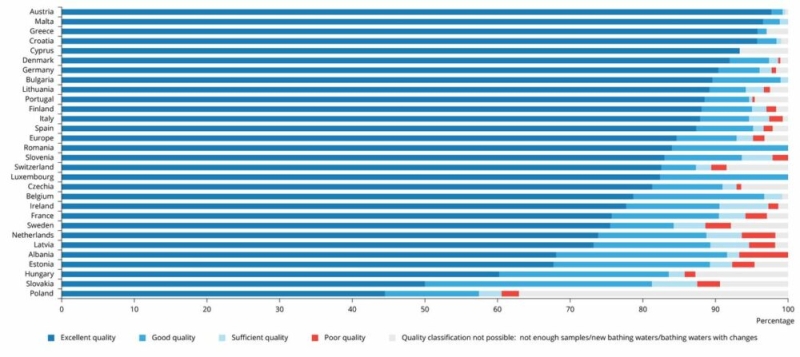 During the period 2015-2021, the percentage of bathing waters with excellent condition in Europe remained stable at 85-88% for coastal bathing waters and 77-81% for inland bathing waters (Figure 3).
< p>The quality of coastal areas is generally better than that of inland areas due to the higher self-cleaning capacity of coastal areas. In addition, many inland bathing areas in central Europe are located in relatively small lakes and ponds, as well as in low-flowing rivers, which, especially in summer, are more sensitive than coastal areas to short-term pollution caused by heavy summer rains or droughts. .
Figure 3: Quality of coastal and inland bathing waters in the EU between 2015 and 2021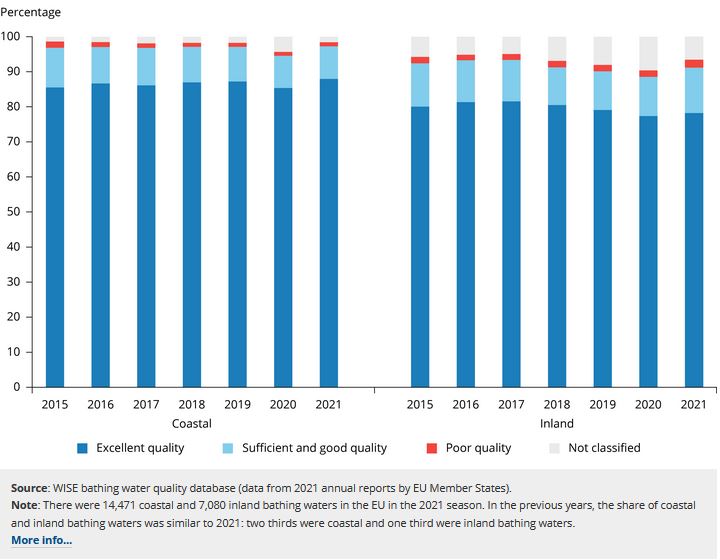 Some bathing water is still of poor quality
In 2021, 332 or 1.5% of bathing water in the EU was of poor quality (Figure 3). While the share of poor quality areas has declined slightly since 2013, problems persist in poor quality bathing water or bathing water that is often affected by short-term pollution. There is an urgent need to assess the sources of pollution in their catchment area and to implement integrated water management measures. In bathing areas for which the sources or causes of pollution are difficult to identify, specific studies on pollution sources are required.
In six EU countries, 3% or more of bathing water was of poor quality : Estonia (two bathing waters or 3.1%), France (99 bathing waters or 3.0%), the Netherlands (34 bathing waters or 4.6%), Latvia (two bathing waters or 3, 6%), Slovakia (one bathing water or 3.1%) and Sweden (16 bathing waters or 3.5%).
In Albania, the number of bad bathing areas has decreased significantly since 2015, when 31 bathing areas (or 39.1%) were rated as bad. In 2021, there were only eight poor bathing waters (or 6.7%) in Albania. This improvement can be linked to the construction of five wastewater treatment plants in Albania in recent years.
Monitoring and evaluation of bathing water quality in Europe
During the bathing season, local and national authorities took samples of bathing water and analyzed them for the types of bacteria that indicate sewage and livestock pollution. Contaminated water can affect human health, causing stomach upset and diarrhea if swallowed. Based on the levels of bacteria detected, bathing water quality was then classified as "excellent", "good", "sufficient" or "poor".
Member States shall establish the corresponding monitoring logs, which shall comply with the provisions of Annex IV to the Bathing Water Directive:
a sample shall be taken shortly before the bathing season. at the beginning of the bathing season,
at least four samples (including the sample before the bathing season) must be taken and analyzed during the most recent bathing season,
the interval between the dates sampling should not exceed one month.
If all three requirements are met, the logbook status is deemed to be 'applicable'. In 2021, full monitoring requirements were applied to 98% of European bathing water, which is higher than in the previous period, when monitoring was affected by pandemic measures.
In Austria, Bulgaria, Cyprus, Finland, Ireland, Luxembourg, Latvia, Malta and Slovenia the monitoring log has been fully implemented in all the mentioned bathing waters.