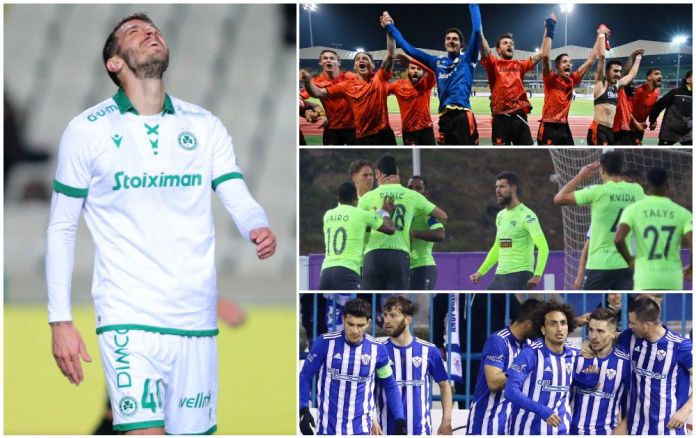 From where it seemed that, after the draw between them, Paphos and Anorthosis would be the "losers" of the match in terms of the battle of the six, came the… slap of the National in Omonia to change the data.
The home defeat of the greens now makes them the absolute underdog, as with only two games left (Paphos three, Anorthosis four and APOEL), they have fallen to seventh place. Therefore, even if Omonia wins its two matches (with Aris and APOEL), it should be favored by a combination of results in order not to be left out of the top six for the first time in its history, in a year where the goal was to defend of the champion's crown.
At the same time, the defeat of Omonia, which left it at 28 points, means that the limit of six is (at the moment) at 35 and whichever team reaches this number, secures the goal. In short, APOEL needs five points in four games to seal six, Paphos wants six points in three games and Anorthosis also six (excels in a draw) in four matches.
The battle of the six will be judged in 11 matches (if it "pulls" until the last match) while in these games are included two derbies between co-contenders (APOEL-Anorthosis, Omonia-APOEL).
See the score, the matches that each team has to give and then the 11 games that will judge the battle of the six:
1. Apollo 41 (19)
March 25 (19)
3. AEK 35 (19)
4. APOEL 30 (18)
5. Paphos 29 (19)
6. Correction 28 (18)
7. Omonia 28 (20)
8. AEL 21 (18)
9. Glory 18 (19)
10. Olympiakos 17 (18)
11. PAEK 13 (17)
12. National 12 (20)
The four games of APOEL (30): PAEEK (out), AEK (in), Anorthosis (in), Omonia (out)
The three games of Paphos (29): Ethnikos (out), Doxa (out), Aris (out)
The four games of Anorthosis (28): Aris (inside), Olympiakos (inside), APOEL (outside), Apollon (outside)
The two games of Omonia (28): Aris (out), APOEL (in)
The 11 games that judge the six
Postponed from the 15th match day
PAEEK – APOEL (09/02, 19:00)
Anorthosis – Aris (10/02, 19:00)
21st match
National – Paphos (13/02, 19:00)
Anorthosis – Olympiacos (14/02, 18:00)
APOEL – AEK (14/02, 20:15)
Aris – Omonia (16/02, 18:00)
Postponed from the 16th game
APOEL – Anorthosis (17/02, 18:00)
Doxa – Paphos (18/02, 17:00)
22nd match
Paphos – Mars
Apollo – Anorthosis
Omonia – APOEL