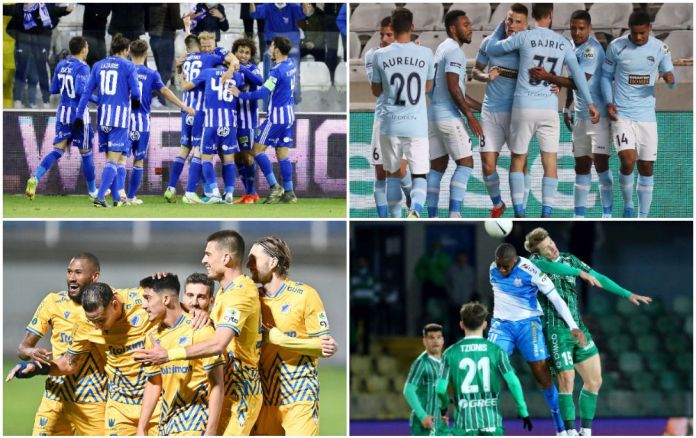 Out of six, there are four contenders for the three open places of the six after the games of the 17th game of the championship.
The defeats suffered by Olympiacos and AEL from Paphos and Anorthosis respectively seem to eliminate the last chances of the black and green and blue and yellows to enter the first group, as their difference is now at such levels that, despite pending matches, it will be necessary a small… (possibly a large) "miracle" to be covered in the five remaining matches of the first phase.
The above development brings Anorthosis, Paphos, Omonia and APOEL to fight with each other to avoid the last available "ticket" of the second group and to complete Aris, AEK and Apollon in the first group of the playoffs.
Among the four, predictions are extremely difficult to make, as the "frame" of these teams is just two points away. In terms of points, it can be said that Omonia is in the worst position, as it is sixth and at +1 from the seventh APOEL, but it is the only one of the four teams that does not "owe" matches, while the blue and yellows have two games less , something that also applies to the ("pioneer" of the four) Anorthosis, a fact that can be considered to make it… favorite.
It goes without saying that many will be judged in the games between the four teams, but not all as now every game without exception is crucial and the four gladiators will be slaughtered to seal the first goal of the year and not lose the goal of the title so early, as well as claiming a European ticket through the championship.
See the rating:
March 33 (16)
2. AEK 32 (16)
3. Apollo 32 (16)
4. Correction 25 (15)
5. Paphos 25 (16)
6. Omonia 24 (17)
7. APOEL 23 (15)
8. Glory 17 (16)
9. Olympiacos 16 (16)
10. AEL 15 (15)
11. PAEK 13 (15)
12. National 8 (17)