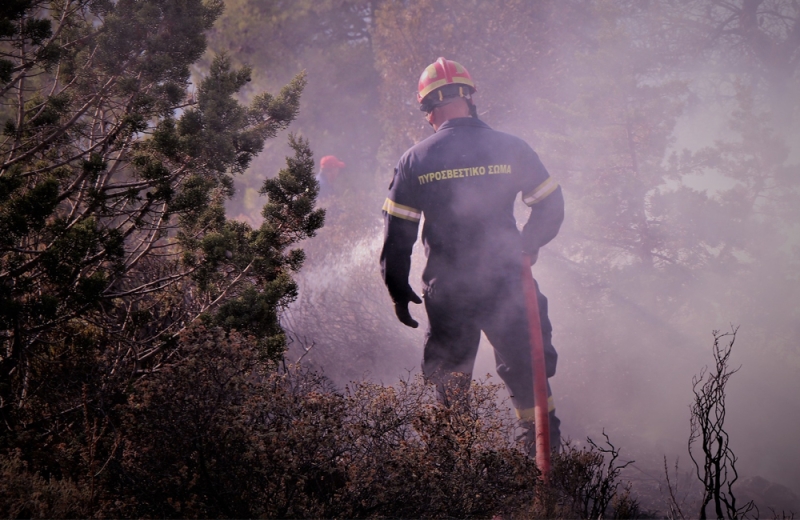 *file photo
The fire brigade has been alerted due to active fire fronts in Ilia, Evia and Paiana.
In all three cases both ground and air forces have been mobilized.
30 firefighters in Ilia
As for Ilia, the fire broke out in an agro-forestry area in the Havari area.
There are strong forces of the Fire Department at the scene, specifically 11 vehicles, 30 firefighters and two aircraft
According to information from ilialive.gr the fire is near the village, but does not threaten a residential area and extends over an area of ​​about 20 acres.
#Πυρκαγιά σε χορτολιβαδική έκταση, επί της οδού Αμπελώνος Παιανίας Αττικής. Κινητοποιήθηκαν επίγειες και εναέριες δυνάμεις.

— Πυροσβεστικό Σώμα (@pyrosvestiki) July 3, 2022
Alarm in Peania
The fire is also big in Peania Attica as 20 firefighters with seven vehicles, a pedestrian section, and two planes are helping from the air are on the scene and working.
< p>Due to the fire, traffic has been stopped on Agia Paraskevi Street from the height of its junction with Georgiou Sideri Street.
https://twitter.com/pyrosvestiki/status/1543533810670764033 ?ref_src=twsrc%5Etfw
Strong firefighting force also in Karystos
A fire also broke out in low vegetation in the area of ​​Kampos Karystos, Evia. 28 firefighters with a group of pedestrians, 8 vehicles, two aircraft and a helicopter are working at the scene. At the same time, assistance is provided by local water bodies.
As it became known at 1:43 pm on Sunday, the fire was brought under control. According to the mayor of Karystos Lefteris Raviolo, "the powerful forces of the fire brigade that were in the area limited the fire, have brought it under control and are already trying to control the possible rekindling".
At the same time in progress there is also a fire in Ilia. The fire broke out in an agroforestry area in the Havari region. To extinguish it, 30 firefighters with 11 vehicles, a section on foot, and two aircraft will do water drops.
#Πυρκαγιά σε χαμηλή βλάστηση στην περιοχή Κάμπος Καρύστου Ευβοίας. Κινητοποιήθηκαν επίγειες και εναέριες δυνάμεις.

— Πυροσβεστικό Σώμα (@pyrosvestiki) July 3, 2022