Συντάγή της Αθηνάς Λοϊζίδου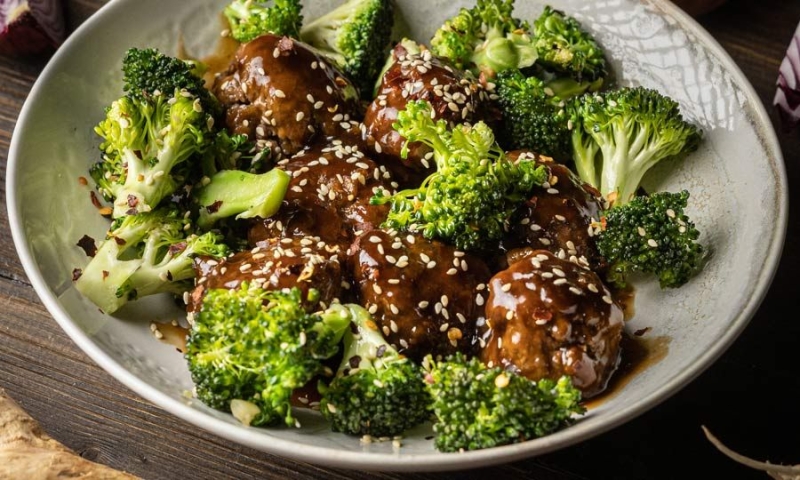 watch video
We serve with rice or without … Faster than take-out and much healthier! Delicious beef meatballs, roasted and aromatic broccoli, all together in a wonderful sweet and sour sauce! Finish with roasted sesame seeds, for a quick and easy Asian-style dish.
Preparation time: 20 minutes
Cooking time: 15 minutes
Servings: 4
Calories per serving: 435 kcal
Ingredients
450 gr. ground beef
2 tbsp. soy sauce (for meatballs)
1 tbsp. fresh grated ginger
2 tbsp. chopped onion
Salt and pepper
50 gr. cornflour
50 gr. soy sauce (for the sauce)
80 gr. honey
300 gr. water
1 cube beef broth KNORR, crushed
50 gr. sesame oil
1 large broccoli, cut into bouquets (about one and a half cup)
1 tbsp. garlic, melted
1 tbsp. grated ginger
A little boukovo
1 tbsp. sesame
Execution
1. To make the meatballs: In a bowl, mix the minced meat, soy sauce, ginger, onion, salt and pepper. Stir until the ingredients are homogeneous. Shape the minced meat into small balls.
2. Place 2 tablespoons of cornflour on a plate. Pass the meatballs through the cornflour to cover them.
3. Take the rest of the cornflour, pour it into a bowl and mix it with 4 tbsp. water. Using a hand whisk, add and mix in the soy sauce, honey, water and crushed broth.
4. Heat half the oil in a large pan or wok over medium heat. Add the meatballs, cook until lightly cooked on the outside, for about 8 minutes. Remove the meatballs from the pan and place them on a plate until needed.
5. Wipe the inside of our pan with plenty of kitchen paper. Heat the remaining oil in the pan and add the broccoli, garlic, ginger and boukovo. Fry lightly, for about 5 minutes. Transfer to a large plate. Pour the soy sauce/honey into the pan. Boil for 1-2 minutes, stirring, and add the meatballs. Cook until the sauce starts to thicken, about 6-7 minutes.
6. Serve the meatballs with their sauce, together with the broccoli, or on top of rice if desired. We end with sesame.
If you make this recipe, be sure to leave a comment on my website. I like to listen to your opinions and I always try to answer your every question quickly. And of course, if you make this recipe, upload it to Instagram and don't forget to tag me and use the hashtag #athenarecipes.
Find more recipes at athenarecipes.com