Συντάγή της Αθηνάς Λοϊζίδου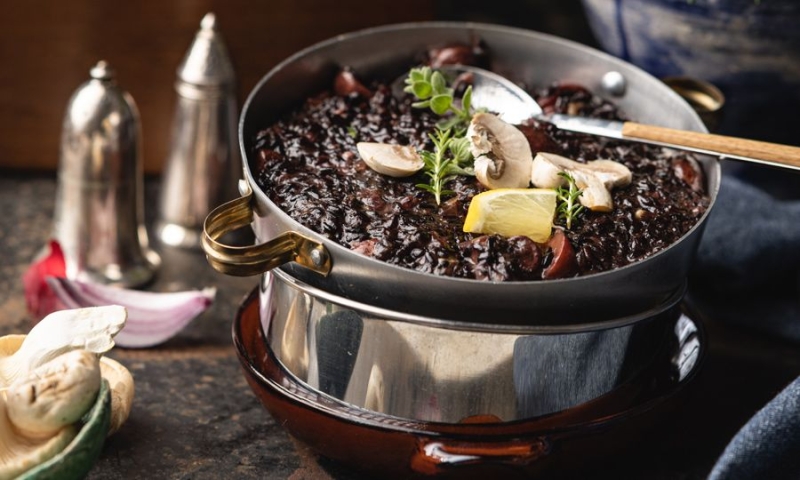 watch video
See how we make the best mushroom and truffle risotto together in less than 40 minutes. Loaded with mushroom flavor, wonderful black truffle and white wine. It's a great dinner dish and there is nothing better than this black risotto to impress friends, family or a date. It is one of those dishes that has a reputation for being difficult to make, when in fact it is one of the simplest dishes you can make.
Preparation time: 10 '
Cooking time: 30 '
Servings: 4
Calories: 470 kcal per serving
INGREDIENTS:
80 gr. butter, cut into small pieces
2 tbsp. garlic, melted
1 onion, finely chopped
8 white button mushrooms, cut into slices
250 gr. black rice for risotto Gallo
600 gr. water in which we dissolve a cube of vegetable broth
300 gr. dry white wine
80 gr. parmesan cheese, grated
20 gr. black truffle paste
Salt and pepper
To serve:
1/2 sliced ​​lemon
1 tbsp. fresh chopped parsley
Parmesan
EXECUTION:
1. Melt half the butter in a shallow saucepan over medium-high heat.
2. Add the onion and garlic and fry for 2 minutes until flavored. Add the mushrooms and the rest of the butter. Fry for 2 minutes.
3. Add rice risotto and cook for a minute, until the butter is almost completely absorbed.
4. Heat over high heat and pour in the wine. Cook until most of the liquid is gone, stirring constantly.
5. Add about 1 glass of water with the broth and stir over medium to high heat. Repeat the process until we use all the water. This will take about 20 minutes, so the risotto should be ready.
6. Remove the pan from the heat and add the parmesan cheese and truffle paste. Try and season with salt and pepper. Serve with chopped parsley, extra parmesan if you want and a slice of lemon.
Find more recipes at athenarecipes.com