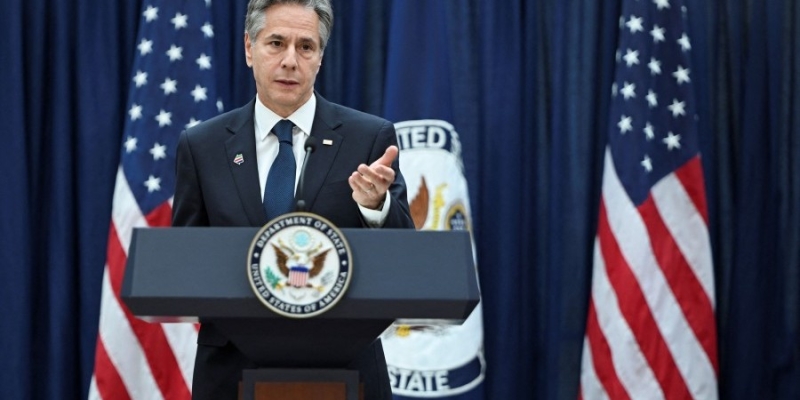 US Secretary of State Anthony Blinken said today that he hoped a successful counteroffensive launched by Ukraine against Russian forces could force Russian President Vladimir Putin to negotiate a peace deal.
>
"A success of this counteroffensive could do two things: strengthen (Ukraine's) position at the negotiating table, and it could also finally lead Putin to negotiate an end to the war he started," he told reporters having alongside his Italian counterpart Antonio Tajani.
"In that sense, this could bring peace closer, not further away," he added during a press conference in Washington.
The head of American diplomacy declared "convinced" that Ukrainian forces will enjoy success, as Kiev announced the recapture of three villages in the eastern Donetsk region on Sunday — the first liberations of territory since the "counter-offensive" about which the president Volodymyr Zelensky had spoken on Saturday.
Although it is "still too early" let's see how this will turn out, he stated.
President Zelensky admitted on Saturday that his army was carrying out "counter-offensive actions" without wanting to comment further on this matter.
His Russian counterpart Vladimir Putin had declared a day earlier that the expected months-long major Ukrainian counter-offensive had "begun" but that Kiev forces "failed to achieve their objectives" after several days of hard fighting.
According to Blinken, however, any peace should be "sustainable, that is, a peace that does not allow Russia to relax and rest, rearm and attack again in six months, a year or two years from now.
Blinken also said that the US is determined to maximize its support for Ukraine so that it can succeed on the battlefield. He also stated that a "strong" package of policy and practical support for Ukraine during the NATO summit in Vilnius in July.
Source: APE-MPE